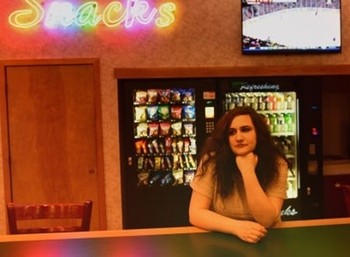 Since she was a child, Ellen Kempner has been playing guitar and writing songs as a way to process her life and experiences. College in New York City didn't work out, and so she moved to Boston and eventually, started making music as Palehound. Kempner is now joined by Jesse Weiss on drums and Larz Brogan on guitar, and the group's second album, A Place I'll Always Go, is out now. The album was recorded late last year at Thump Studios in Brooklyn, with the assistance of Gabe Wax (who also worked on the band's 2015 debut Dry Food).
For fear of alienating straight audiences and being pigeonholed, it wasn't till recently that Kempner openly explored her queerness in her music. A Place I'll Always Go finds two focuses: Kempner's partner, who she writes about using female pronouns, and her friend Lily, who passed away unexpectedly. She says, "When you lose a friend—a young friend—nothing can prepare you for that." NPR says A Place I'll Always Go "gradually projects a flicker of light amid the darkness": while experiencing the painful, and often confusing, feelings of grief, Kempner entered a new relationship.
The video for "If You Met Her"- which premiered over at Rookie Mag- was created entirely by high school students at the Real to Reel Filmschool at Raw Art Works in Lynn, Mass. We see Kempner driving, lost in thought, and at home, where she sits at the kitchen table, on her bed, and on a coffee table in front of the TV while recalling happy memories and wishing her friend could meet her new lover: "I'm with someone new, and I know that you would love her if you met her." The clip is stunning in its honest portrayal of the unexpected feelings after loss, as the empty chairs hold weight and things crash to the ground around her.