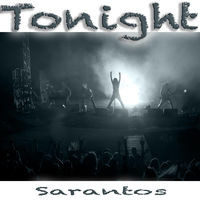 Sarantos sculpts a spellbinding story with the joyful "Tonight". Over the course of the song Sarantos weaves in elements of classic rock, pop, with a hint of hard rock thrown in for good measure. From this unique hybrid of genres Sarantos creates a song that possesses great heart. By opting for such an approach the song opts for an extremely welcoming, optimistic track one that moves forward with such intensity. Guitars and keyboards positively glisten while the song propels itself forward. Easily the very core of the track comes from the soothing, reassuring vocals which are a testament to the lyrical prowess Sarantos has honed.
Drums and guitar begin the song with such a luxurious feeling. From this raw intimate style, the song grows in energy. Keyboard enter the mix helping give the song a muscular groove. Everything comes together in such a glorious sea of color. Upon hitting the right tempo, the groove moves into an absolutely inviting rhythm. Guitar solos adorn the song before a slow breakdown occurs. Sarantos lets his playfulness add to the spirit of the song, even as his lyrics hint at a greater loss. The ups and downs receive equal attention, as Sarantos lets the song represent what it truly means to be alive. For the finale, everything simply drifts away with an organ vamp that ends things on a high note.
"Tonight" reflects upon the unique and colorful aural universe of Sarantos, from his ear for melody to the way he delves into an inner peace, one worth celebrating.
By – Beachsloth.com