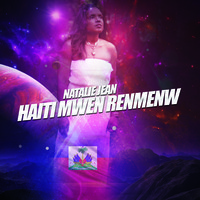 Natalie Jean, a renowned Haitian singer and performer, outdid herself in her latest collection of soulful melodies, Haiti Mwen Renmenw.
Made up of ten intriguing ballads, the Haiti Mwen Renmenw tells the story of Jean's love for the little Caribbean island. From the moment listeners get their first taste of Haiti and Se Kanaval, they are drawn into the exoticness of Caribbean beats and the spellbindingly strong, clear notes of Jean. Through her latest collection, Jean uses her powerful vocals to let the audience know of (and share in) her passion for her homeland. The atmosphere is fun and playful through the funky Se Kanaval, Saut D'eau, Haiti, and Smoking Ke Fan. Anyone who enjoys a good beat and captivating tones to go along with it will appreciate the ingenuity of Jean as she draws a picture of a little town, full of beautiful views and prettier dark-skinned women (as in Marabou), superstitions (in An Selebre Papa Dambalah and La Nuit Nou Tounin Lougarou) and a happy people. They'll empathize when she prays for peace for her beloved country in Le Pe, and advocates for her beloved nation (which she severally calls Haiti Cherie) in Endepandance. She draws one in with strong notes, exotic piano, guitar, drum and the occasional tambourine accompaniment. Not to mention the tales she creatively tells with her words.
Three tracks stand out in Jean's debut album: L'Amour a L'Infini, the story of a great love told in Jean's most fiercely passionate notes; Se Kanaval, the song that celebrates the festivities of Haiti, and La Nuit Nou Tounin Lougarou, an enchanting Caribbean beat that captures the most primal of Haitian's beliefs. All through this album, Jean uses her high notes to capture attention, to draw it to the instrumentation, to tell a story of love for Haiti, and to show appreciation for its beauty, its quirks and its joys. Those who do not understand her language will still appreciate her musical ingenuity throughout these tracks.
By John Elliston