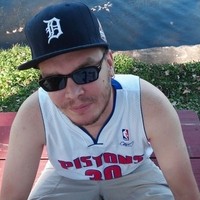 Born in Traverse City, Michigan, DJ Arthur Looby, Born Arthur Arnold Rudolf Looby, always had music in his blood. As little boy, he'd dance and perform Michael Jackson songs (Arthur would have loved to record a song with Jackson) and pretty-soon people noticed his love for music. At the age of 5, Arthur moved to Germany where he graduated school and obtained a master's in business management. Though Arthur lived his whole life in Germany, his heart belonged in the USA. Arthur chooses not to sing or rap, but rather likes to produce the beats and sound. He's a true composer and songwriter. The album, Stomp, has a variety of good stuff on it to show what an eclectic mix it is. EDM, rap, hip hop and soul are combined with his skills to lay it down. Kicking it off with "Can't Stop Won't Stop – Feat Show Biz" there is no time wasted once it gets underway and the beats start popping. The lyrics are surprisingly clean and positive. There's not a bum note on it, all good from the get go. This is very well done, no matter who's cup of tea. It's all about the streets and guiding the people out of the rut and into a better life by reading the signs and navigating to the beat.
FACEBOOK: https://www.facebook.com/DjArthurLooby/
The next track is completely the opposite concerning the lyrics, but it's somehow comprehensive either way. It just gets pretty-explicit so it's not for everyone, like the previous cut, which is universal compared to it. But, this serves its own purpose just as well as the next who rap like Lethal Bizzle. And that moves onto "The Love You Give – Feat Show Biz" and it's a lot more like the opening track. A much better groove and the whole nine yards with some awesome soulful female vocals. It just as everything he's cooking with and then some. It's obvious by this time that it's going to be a ride, and this just plain rocks. He's only human, and he makes no secret of it anywhere on the all-of the songs. "I Feel It "In My Head" features more great vocals as they spar between each other, back and forth as the needle bounces. This is another good track with plenty of accessible appeal. You'll feel it everywhere, not just in your head. It harks back to acts like CC Music Factory with a glamorous vibe. "Do It Baby" steps it up a notch in the sound department, as the rapping takes a lesser role and the big sonic sound does the business. This relies more heavily on production, which comes out masterful by the sound of it.
It's kind of tricky reviewing music that is essentially produced by the artist but collaborated on with others. There should be some data reflecting more approximate measures because we usually review more organic style music. But there's no denying the gifts here, and most of the cuts follow in the same fashion already described. But this is the EDM factor working overtime, as DJ Arthur Flooby isn't bringing a pedestrian quality product. It's spot on production/mixing/engineering here, and it must be credited as such. There is no shortage of it with enough tracks to spice up anyone's playlist.
REVERBNATION: https://www.reverbnation.com/djarthurlooby
Larry Toering