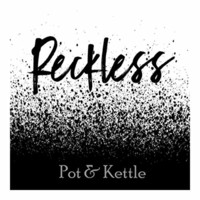 Pot & Kettle are storytellers first and musicians second, aiming to immerse listeners into a world they've never known or one they are all too familiar. Their lyrics expose the rawest of human emotion using intense imagery and popular turns of phrase. No topic is off limits and no one is safe. Gritty, soulful vocals sing topics of rescue, abandonment, courage, fear, depression, heart break, addiction, love and loneliness. Written from personal experiences, Pot & Kettle create music to come alongside listeners in whatever moment of life they exist.
With "Reckless" they have a feature single for Dark Paradise, by best-selling author, Randi Cooley Wilson. This is all about being thought of indestructible and irreplaceable but not actually being so invincible after all. The "creatures and the sinners" are called upon to deliver, and that's just some of the lyrical content to be heard on this dark but featherweight pop tune with all the bells and whistles. The music is also categorized as Alternative – Electro-pop. But these terms tend to mush these days, and what you get is a mixture anyway. This can go over well just about any time or place where music is heard.
CD BABY: https://store.cdbaby.com/cd/potkettle
The lyrics seem to follow along the lines of the book title, with a lot about being in the dark and shut out. Trying to find a better way to go is where she takes them and it's all very fluffy on the surface but deep underneath. I wouldn't know who to compare the vocals too, as most pop sounds like this, but he belts it out with the best of 'em. It's so hard to describe unless you know something by an artist already, so there's nothing more to go on than the song itself, but it succeeds on its own merit and so do Pot & Kettle themselves. They stand on their own two feet along with it.
You can get a "sneak peek" at her playing and singing a piece of the song on YouTube. But that's just a little glimpse into them. A video should follow this, it would be just the right move for the single. You can't make it on singles alone, even though they're still popular, and this would definitely-benefit from one. Who knows, it could get thousands of views or maybe much more. But if they don't put it out there we'll never know. Another cool thing about that is people are downloading them when available, not just streaming. Get it to the world and see.
The production values of Pot & Kettle are on display with "Reckless" being a good vehicle for that as well as to express themselves with musically. That's just another thing a video would also show another side of. This is a good smooth track with the best of what synth-pop has-to offer, but with a down-groove that won't quit. It plays on loop like a seamless six-minute song, and that also helps keep it in your head. Playing it over and over does have that lasting effect. It comes recommended for that if anything, and it can also add some curiosity to the book and vice versa. All in all these are good points in its favor.
AMAZON: https://www.amazon.com/Reckless/dp/B06ZYWZCBV
Kevin Webber