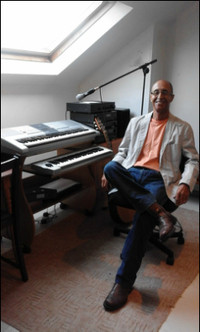 Paul Coelho is and interesting artist from Bristol, England, primarily writing for the purpose-of others to pick up his catchy songs. His songwriting and lyricism are what stand out the most, backed by great instrumentation and influences in the right areas to round out his craft. You can hear many inflections of everyone from Beatles and David Bowie, to ELO, Supertramp – Emerson, Lake and Palmer. He has a unique sound and can be heard at his website where he sells his music to everyone from artists looking for music to record, to anyone looking to hear some good pop of both the soft and semi-hard rocking variety.
URL: http://www.paulcoelhomusic.com/
"Sometimes" is a mixture of everything Paul Coelho is made of. It has light textures with a snappy drumbeat that sounds like Beatles but it also sounds totally original. The production is the only thing there is to question, with the vocals being high in the mix. And it cuts off abruptly at the end, which is too bad because otherwise there's still a good song in this ballad inspired by his wife. The next track "Smile" is one of those buddy buddy songs about reuniting and catching up on the years over some beers. This one features vocals lower in the mix and the keyboards very high at the bridge and solo parts. "First Love" is sonically challenged but it works anyway. The blend of harmonica, tribal and hand clap percussion are a bit much with 80s the techno-romantic vocals. But it does hark back to those days, for those who like that area. The indoor-outdoor sound of it allows more than one style to keep up with, and that's what's catchy about it but could also be where the challenges comes in. Once you get past that it's worth repeating for the contagious keyboard work alone, which is one of the better aspects to his music. And it begins to come on strong throughout most of this track.
"Lonely" is about alcoholic mistakes and being at rock bottom once upon a time. A true story but I am sure most of them are, as part of his writing style to begin with. But this is different, it has a better vocal presence about it to go with the good tune that it is. But the down side is that it changes moods so much that it almost sounds like three songs. It's probably the most diverse track because of that, but not his best work. But when you're reflecting on hard times, it can dampen the mood in places. This is probably the least exciting moment of anything I've heard yet, but it's worth mentioning what struggle it's about. On "Lucky Man" you instantly might think it would be a cover of the Emerson, Lake and Palmer classic. Instead it is really nothing like a piece of theirs, except to say that the keyboard work is obviously very inspired by the late great wizard. And it's fantastic for the most part. This contains some bombastic rock for all it's worth. With some pretty- cool vocals over the top of it. Paul Coelho comes recommended for this one track. There's a couple more to wrap your ears around, but these tracks do the business for what he has-to offer so far, as he sets out to accomplish his ongoing mission.
http://www.paulcoelhomusic.com/
Larry Toering