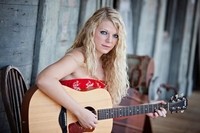 A prolific songwriter, Hannah Belle, with her compelling original songs and her seasoned Nashville musicians are a welcomed addition to any family friendly event. Hannah Belle also is somewhat of an expert in classic country music, especially the 90's – 2000 era, having been a drive time DJ on a classic country station. Not only well versed in country music, she also has been the front person for two contemporary Christian praise bands and currently leads worship at the 2000 member, First Baptist Church, Covington, LA. Catch Her If You Can, is here new six track EP, with two full albums also in her catalog.
URL: https://www.hannah-belle.com/
"Stomping Ground" opens the tracks with what easily contends for the best track for several reasons. But it takes nothing away from any of them either. It's just that it is an awesome opener with more than likely the best work from everyone involved. It's not hard to fall in love with this song the first time you hear it. I'm not saying it's the greatest songwriting, but there isn't flaw one to be heard if you appreciate any form of country music. There's also no question she knows how to arrange a set of tunes for a release. She nailed it with flying colors on this lead off cut.
"UnSouthern" is a funny little poke at city folk, with some great strings to give it some seriousness. But for the most part this is a playful take on the things not to do to win over a southern lady. If you don't eat, act or even sleep the right way, you're not welcome in her book. It's one of the only weak points on the disc. "Forgive" is the big balladeering track for all it's worth. It crosses boundaries with a soft but powerful studio performance. There's a hardcore country side to it, but it's also a gospel style piece that you can pin down to one genre. It's country no matter how you look at it.
But on "Raised" it's a different story as she gets in feisty mode and competes with the Miranda Lambert's of the world on a groovy track that keeps up with the best of the rest. It's one notch above the average country pop that's getting a lot of airplay. This is the kind of thing to be found on both of here full-length releases. And this EP adds well to them, but why an EP after two albums is the only thing that confuses. But the track is all about what makes you happy and the fact that what doesn't, isn't meant to be.
"I Can't Make You Happy" is another ballad, but this one of intermediate speed. It's more of a traditional country song than the former ballad, which allows some good contrast between the two. This makes it the weaker of the two ballads. But if you don't compare them, both deliver equally at the end of the day. They're all good tracks, and she saved the best for last in "Catch Her If You Can" the song about nobody's fool. It tells the typical story of someone you can't keep your finger down on. Hannah Belle proves she can keep up with the best of today's country-rock artists.
I-TUNES: https://itunes.apple.com/album/id1254159237?ls=1&app=itunes
Kevin Webber