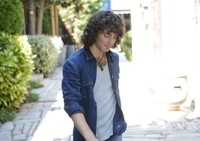 History is a point in time, in which something happens to make it have a point so important it makes a mark. That is precisely what happened with Josh Taerk, a singer and songwriter that has had what he calls an amazing history. He's been playing local venues in and around Toronto for some time, but one particular time when Bruce Springsteen's drummer Max Weinberg had seen him play everything changed. Max went on to invite Josh to open for him at his sold out showcase in New Jersey.
Besides that he asked him to play onstage with him playing and paying a tribute to the late Clarence Clemons at the Summerfest. Max was so impressed by Josh's creativity and music craftsmanship if you could not already tell. After those events had taken place, Josh was selected to play the 7908 John Oates Aspen Songwriters Festival, he would there met John Oates, another great mentor and now friend. But it did not end there Josh and John Oates would work together, as John would do recording of backup vocals for Josh's album and connect him with a producer by the name of Teddy Morgan. So all was going quite well for Josh Taerk.
This past year Josh would go on to play shows along with touring across the U.S. where his last single "Anywhere Love Took Us" charted the Hot AC Commercial Radio charts. Whilst on tour Josh and his band would go on to open up for blues guitarist Robin Trower of Procol Harum, Kevin Costner & Modern West, Jon McLaughlin, Austin Jones amongst others. Having played shows going from coast to coast, Josh and his band even headlined a show in his own hometown of Toronto this past March in the spring time.
But what is Josh Taerk up to as of now, well aside from the last single, he has gone on to write and record more music releasing a new single called "Your Song" which had an accompanying video to go with it. "Your Song" is an acoustic track, a cover song originally sung by Rita Ora, that has been taken from the single and made into a video, a simple one at that though. It showcases Josh performing on his acoustic guitar, singing the song, just doing a performance piece really throughout the video. The setting is not a stage set up for what appears to be a basement setting of a house hold. So Josh keeping things in a simple setting, maybe even his own living space like his child hood home perhaps.
In any case though, he is performing this particular track loud and proud. The song of course like many involves details about a love life he had experienced. Like many artists and bands, among real life individuals experience from time to time every now and again. The song expressing his feelings towards this girl. Him wanting to hear love songs, not sad or mad songs. He just wants to sing her song, thinking about falling for her, being in love with this person. So much that she means that much to him. It becomes very meaningful and relatable as you listen closely to the lyrics. The melody of the track just keeping that same steady beat, that keeps it catchy yet pleasing to the ear.
Josh's vocalization work is well rounded, you can understand what he sings and says with his work. He has a soothing voice with such capturing melodies that his voice embraces everything coming out of his heart, mind, and soul. He is one person that is going places, with this track or his previous works, he is able to take what happens for real, making it happen in real time, in the form of his music.
Surely fans of Josh, will hear a resemblance to that of John Mayor, Gavin DeGraw, or Ed Sheeran. Josh is that pop rock icon, to become truly ironic, his works of art that is his music. He has got style, craft, and true art that shows off what he can really do with his emotions and words.
https://www.facebook.com/joshtaerk
By: Natalie Perez