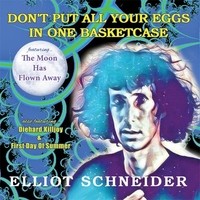 'The moon has flown away' is a truck Song composed and produced by Elliot Schneider and released on 12 June 2017. Elliot Schneider is a Rock song writer and a singer as well. Due to effects of Chemo, Elliot previously a teacher is forced to retire. However, as a talented songwriter, he sees another venture in rock becoming one of the best song writers. In his latest album, don't put all your eggs in one basket, Elliot features the song the moon has flown away.
The lyrics of the song are educative. As a teacher, despite retiring from active teaching, Elliot uses music as a platform to continue educating the masses. Elliot at one point describes his love for music, noting that it feels like making love to the world. Through his song, Elliot encourages the masses to enjoy life while they can since he remembers how he once danced and felt so high. The words of Eliot could be the reflection of his life before cancer attacked him.
The instrumentation in Eliot's song the moon has flown away is just perfect. It goes well with the tone of the song creating an excellent channel for Elliot to propagate his thoughts and feeling to the rest of the world. The beats go well with the lyrics of the song making it spicier and giving the audience a reason to listen to it over and over again.
The originality of the song is unquestionable as Elliot narrates his own story. It is because of Elliot's originality that the album has sold well since its production. Due to the originality, the song is catchy as Elliot sings the lyrics with passion and emotion, they leave a sense of inspiration to the listeners.
Listening to Elliot's song, the moon has flown away can never be boring. The song leaves a significant impact on its listeners. The words and melodies by Elliot lures the listeners to his world. The moon has flown away is a great rock song, and the song can be rated eight out of ten. Not only the song but also the Album is a great hit, which portrays what kind of a singer Elliot Schneider is.
http://elliotschneidermusic.com/
By – Eli Roth