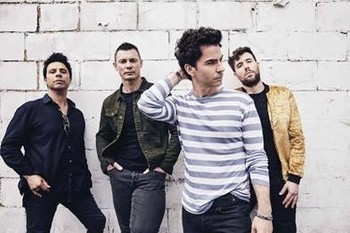 Twenty years after their debut 'Word Gets Around' and six #1 albums later, Stereophonics are set to release their new album 'Scream Above The Sounds' on November 3rdon Parlophone Records.
Their tenth studio album, 'Scream Above The Sounds' follows 'Keep The Village Alive' which went straight to #1 when it was released in 2015 – their sixth chart-topper after 'Performance and Cocktails' (1999), 'Just Enough Education To Perform' (2001) 'You Gotta Go There To Come Back' (2003), 'Language. Sex. Violence. Other?' (2005) and 'Pull The Pin' (2007).
Stereophonics consists of founding members Kelly Jones (vocals/guitar) and Richard Jones (bass) along with Adam Zindani (guitar) and Jamie Morrison (drums). Long-term keyboardist Tony Kirkham joins the band for live shows.
Kelly said of the songwriting process that he began to write "big, anthemic songs that are rallying against those anxious feelings that have flooded through cities. Every song offers a sense of release," he says. "Even when there's nostalgia, fear or anxiety, they're still all offering hope and room to manoeuvre."
Stereophonics photo by Andrew Whitton