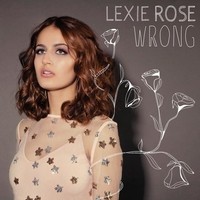 Lexie Rose became popular on the L.A. club circuit at the age of 13, while maintaining her life as a school student, which included playing spots at Genghis Cohen, The Hi Hat, The Hotel Café and the legendary Troubadour. This seventeen year old is busy, that's one thing for sure as one can tell. Her new single "Wrong" is produced and co-written by Max Allyn, and takes her another step forward on her musical journey.
URL: http://www.lexierosemusic.com/
"Wrong" is a good track to lead off her forthcoming EP and falls more under the likes of Fiona Apple and the late Elliott Smith. Because this is more of a ballad with some bursts of energy thrown in, as she struggles between a rock and a hard place in the lyrics about forgiveness. This isn't something that's never been done before, but Lexie Rose isn't a clone of any of her influences either. That much can be told without listening to her new single very many times to conclude.
There's nothing complicated about this song. It bubbles along nicely with a dance beat that doesn't formulize it for that purpose only. You can drive to it or relax around the house or the pool, as well as imagining it on the radio or at the night club. It edges much harder in the pop department that way. While artists like Britney Spears have relied heavily on appearances and performances, it appears that Lexie is making the music count first and foremost. But that could be an observation in the vernacular perspective, as there's more than mere pop music aspects to it.
You get much, much more, including some heartfelt pain to go with her message without it dominating the number. There are no dominations about it, instead there is a perfect blend of styles to enjoy. You can find whatever you want within the context of the subject matter and musical backing. These elements all come together collectively for one smashing track she can be proud of, and so can listeners. These toe-tapping qualities are what everyone who listens to pop-driven music is looking for. She absolutely found her feet in the process of getting this released and into the stream for the masses to hear.
Leave your doors unlocked and your windows open, or you could miss what's really going on out there with artists like Lexie Rose. It doesn't matter what genre or age group anymore. The age thing isn't a factor anymore with entertainment, 7 or 70 it's thriving if you look for it. Non- existing if you don't. But that's just part of the music industry today, as well as being able to record and reach people with it like never-before, especially those pulling out all stops to do it in an independent world that used to not be so easy to accomplish your dreams in. Lexie Rose comes with a recommended product in the process.
TUMBLR: http://lexierosesongs.tumblr.com/
Kevin Webber