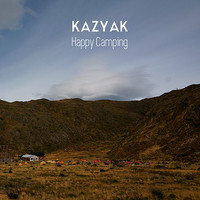 Kazyak are an experimental-Americana group with a lot of potential because they mix the psychedelic with country and an 80s twist thrown in. This gives them an edge that isn't widely engulfed yet, and puts them on the curve of what could be a genre worth keeping an ear to. Or, they don't call it anything and let the public do the guessing. Either way they bring something not everyone is doing these days, inflected with a select few influences like Gillian Welch. Their music reflects that infinite satisfaction is where it's at, when disappointment runs so deep in these times of much trouble.
URL: http://kazyak.com/
The album Happy Camping is a real treat for some, but might be the opposite for others with the mixed sense it can breed. It was written prior to Peter Frey's wedding when they camped on top of a glacier in Alaska, via helicopter from the foot of a melting Basin. And that is likely where the track "Basin" comes to mind. The part about being happy, is what the camp are all about. Staying in the zone and not letting the elements get to you. A musically-medicinal effect is the result. Music can heal and this is where Kazyak's strongest message lies on Happy Camping. But it doesn't even begin there. It begins with the soothing sounds of "Sacred Cow" in which the price is good for alone, as this isn't something to balk at. You could either instantly do a double-take or not, but regardless of that it's compelling to an impressive degree. This slow-playing but mesmerizing cut does wonders to the senses if you allow it to wash all over your day. The anticipation builds up nicely for an all-out fantastic opening gem. With lyrics about taking your time, it is a must to do so in-order to know the Sacred Cow. This tune comes alive toward the end, after a sleepy start that keeps you interested before the bombast seals the deal.
"Sundial" is another highlight with an acoustic guitar featured throughout, to an above satisfactory outcome. But the vocals carry the same weight and make sure you don't miss it. The slow parts also enhance the sonic quality of this song. They're seamlessly mixed with perfection, but that could also be the whole magic of it until all of a- sudden it's over and you can be left feeling cut off and wanting more. Nothing confuses more than that, but nothing also intrigues more. Take it or leave it. I'll take it for all it's worth and then some, because it's still one of the best on offer. "Darkness" is an evaluation of dark compared to the light and how you follow one or the other. We are not all who we say we are, if you don't look on the bright side. There must be clouds and rain as well as the sun from this perspective just as much as the bright side's role in the tricky mind. These lyrics made me think that much before it was even over with. "Happy Camping" takes it out on a good note with a soul- searching piece that is all about coming out of the clouds and taking the good with the bad for a less stressful and conflicting relationship. You'll be happier once you hear it, as-long as you "stop forgetting what you've lost."
Larry Toering