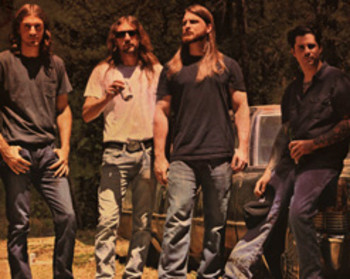 Some say rock and roll died long ago, but one listen to the toe curling sonic energy of South Jersey quartet Triple Goddess and you'll know it's alive and here to stay. Drummer Bobby Andrews and guitarist/vocalist Frank Sacco had been playing in prior musical ventures since 2010, and while other members came and went on multiple projects, they continued on together, eventually recruiting Frank's younger brother Joe to play bass and finally, long-time friend Matt Peterson on guitar.
The result is huge, ass-kicking, feel-good rock and roll. Triple Goddess released their debut EP Pure Power in July 2016. With song titles like "Get Some Rock & Roll", "Pistol", and "Bad Boy Boogie" (AC/DC cover), it's high-octane from start to finish.
http://www.triplegoddessrock.com/
Earlier this year Triple Goddess released their newest single "Born To Raise Hell" on Rockhead Records, and if you like heavy-hitting rock in the vein of AC/DC or Lynyrd Skynyrd, we think you're going to love it. The video centers around a woman that's "born to raise hell", and she- and the video- are pure rock and roll: a leather jacket, a motorcycle ride… oh, and when the band performs, sparks quite literally fly as a huge bonfire burns behind them.