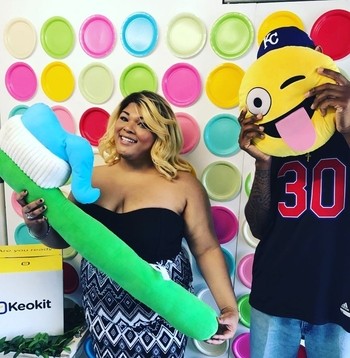 Eye'z is talented singer, pianist, and actress in the San Francisco area. She began singing and performing at the young age of. She went on to study music, piano, and acting at fine art schools across the bay area. Eye'z records her own music and in addition to that she supports other artists. When she is performing she also mixes in cover songs of some of her favorite artists that have influenced her including, Michael Jackson, One Republic, Christina Aguilera, Fats Waller and many more. As for her acting career, Eye'z has done both theatrical and movie work. Her acting work includes Day of Absence by playwright Douglas Turner Ward, Carmen Jones, The C Above C Above High C, and the Barbary Coast Review. In addition to her theater work, Eye'z performed in an indie film called "Another Perspective". "Another Perspective" is a film about high school bullying. She also had her own show on local television called Birthday Drama, and a spin off series called my music block TV which features local music videos. My Birthday Drama centered around Eye'z birthday. Eye'z also performs at events to help bring about a positive change in the Bay area community. She does this to help raise money for various charities.
Steam: https://www.reverbnation.com/eyez/songs
One of those charity performances was on June 10th at the White Horse bar in Oakland at which she helped to raise money for the East Oakland Community Project which is a multi-service organization offering emergency and transitional housing in Alameda County, California. EOCP has several facilities to help homeless people in Alameda County. The first, Crossroads, is a green homeless shelter. Crossroads is the largest of its kind in Alameda County. It is a 125-bed emergency housing program. In addition to providing shelter for homeless people, it also includes individualized support, through case management, which helps homeless people advocate for themselves and connects them to services to assist them in becoming self-reliant. Crossroads provides life skills training, health care connections, mental health and substance abuse counseling, and access to permanent housing and job/career counseling. These are all things that homeless people need to become self-sufficient and be able to obtain housing. The EOCP also has a transitional housing program for single parent families. Matilda Cleveland is a 14-unit congregate residential facility for homeless single parents and their children. Finally, the EOCP has Our House, which is young adult transitional housing. Our House has seven beds for homeless youth, ages 14 – 23.
White Horse Inn
Serving the LGBT community since 1933, this bar hosts karaoke nights, DJ dance parties & drag shows.
6551 Telegraph Ave, Oakland, CA 94609
http://whitehorsebar.com/
Organizations such as the EOCP are very important to the Oakland area the homeless problem has gotten much worse, with people, especially people of color, losing their homes in record numbers. In addition, rent prices have gone up substantially to about $3,000 for a small two-bedroom apartment. It takes a lot of money to sustain these programs and benefits such as the one at the White Horse are extremely important to these organizations continuing. Performers such as Eye'z performing at benefits such as this help to raise even more money. All you have to do is listen to her music to know that she is very talented, but by giving back to her community like this shows what kind of person she is. We need more people in this world like Eye'z, she is a credit to the entertainment industry.