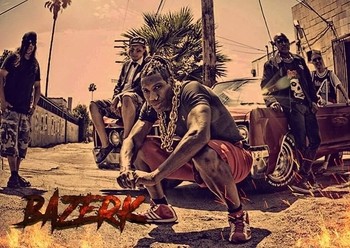 ALBEE AL BARES SOFTER SIDE IN "LOVING YOU"
Jersey City native, AlBee Al is known for his gritty street lyrics and his hustler spirit, both in and out of the studio. Just 3 years ago AlBee was facing 100 years in jail. After being acquitted for murder on all counts, Al has been putting all his energy into the music. He's impressed fans with his stage presence, delivery and back to back bars (like his 8 minute freestyle on Funk Flex), and recently inked a deal with Priority Records. As the New Jersey rapper gets ready to release his EP titled, Tears of a Goon, he shares the visual to the 1st single titled,"Loving You", a refreshing Summer Time classic that the ladies are sure to love. Click here to watch "Loving You".
AMANDA DELARA RELEASES DEBUT EP 'REBEL' TODAY
Rising star Amanda Delara releases her debut EP, Rebel EP, via Sony Music today.
Amanda Delara is quickly emerging as one of the most exciting artists to surface in 2017. With a sound, image and socio-political consciousness that sets her apart, she has a depth and breadth to her artistry which has drawn comparisons with the likes of M.I.A, Sia and Lorde.
Will Hoge Premieres "Young As We Will Ever Be"
Nashville singer-songwriter Will Hoge has premiered "As Young As We Will Ever Be" with American Songwriter. It's the life-affirming closing track from Hoge's 11th studio album Anchors, out August 11 via Thirty Tigers.
ATELLAGALI release new single 'Burn It Down'
After producing official remixes for global superstars like Imagine Dragons, Axwell /\ Ingrosso, J. Balvin, and Enrique Iglesias, and celebrating the first anniversary of their mix show "Aftercluv Sessions" in Alfa Radio, one of the most important radio stations in Mexico, Atellagali presents their new single "Burn it Down". With summer in full swing, the duo now release a sweltering new single that's as hot as its name implies. Featuring Sartori, Konshens, RVSSIAN and Fuego, "Burn It Down" is a fresh and sultry number with reggae vibes and infectious party rhythms that's sure to turn up the heat on every dance floor this season.
BENJAMIN GIBBARD UNVEILS "BANDWAGONESQUE"
Benjamin Gibbard, the frontman for Death Cab For Cutie and The Postal Service, has announced the release of "BANDWAGONESQUE," a full-length cover version of Teenage Fanclub's classic 1991 album. "BANDWAGONESQUE," produced and performed by Gibbard, will be available digitally via Canvasback Music/ Turntable Kitchen following its limited edition release as part of Turntable Kitchen's "SOUNDS DELICIOUS" monthly vinyl subscription service. The vinyl will also include an exclusive bonus 7″ vinyl including covers of Alex Chilton's "Free Again" and Beat Happenings' "Bad Seeds," both of which were covered by Teenage Fanclub on a 7″ vinyl released shortly after their release of Bandwagonesque in 1992. "BANDWAGONESQUE" arrives everywhere Friday, July 28th.
Sleeping With Sirens' New Album 'Gossip' Out 9/22
Sleeping With Sirens have announced the release of their fifth studio album Gossip, due out September 22 via Warner Bros. Records. Produced by David Bendeth (Paramore, All Time Low), the album is brimming with catchy riffs, intricate beats, and singer Kellin Quinn's soul-striking vocals. The 11-track set takes Sleeping with Sirens to a new era in their career, while maintaining the unique spirit that has resonated with millions of listeners since their 2010 debut album. The first single, "Legends" – a triumphant call-to-arms – is out today, alongside the lyric video, and has been named the official song of Team USA for Olympic and Paralympic Winter Games Pyeong Chang 2018.
REO CRAGUN PREMIERES VIDEO FOR NEW SINGLE, "NIGHT CRAWLER"
"Night Crawler" is the latest in a string of critically well-received alt-hip-hop/R&B tracks that Cragun has released over the past year. His 2016 breakthrough "Inconsiderate" has amassed over three million Spotify streams, and Pigeons & Planes has hailed it as a "heavy-lidded alternative R&B track" that "takes all of his frustrations and puts it into somber lyrics over head-nodding drums."
"Night Crawler" is the first track to be released from the 23-year old Vancouver, WA, native's upcoming mixtape Growing Pains, which will be released by Virgin Records on August 4th through all digital partners.
NAV + Metro Boomin Announce 'PERFECT TIMING'
Today, NAV & Metro Boomin formally announce their highly-anticipated project Perfect Timing with the release of two tracks, the title track "Perfect Timing" and "Call Me". The album is due for release next Friday, July 21 via XO/Boominati Worldwide/Republic Records.
The album was born out of the two artists mutual admiration for each other's skills behind the mixing board, having previously worked on NAV's viral hit "Up," (featured on NAV's self-titled debut mixtape). Perfect Timing includes tracks produced by NAV and Metro Boomin both collaboratively and separately. The project also bodes a handful of exciting surprise guests with additional details soon to be revealed.
Brandon Rhyder Releases Self-Titled Album After Four-Year Hiatus
Singer-songwriter Brandon Rhyder has been making music for fifteen years now, though in the past few years he's taken a step back. Rhyder has continued to tour, but took a four-year hiatus from the studio to think about what's most important to him: his family, relationships, a legacy. Brandon Rhyder, releasing today, is his line in the sand.
Rhyder worked with producer and friend Walt Wilkins for the record, which showcases a clear understanding of what's most important to him, the conclusions he came to while pondering who he was, why he was making music and where he stands on the big, important things. The collection is reminiscent of what fans have come to love from Rhyder, while also providing a new depth of emotion garnered from trials and tribulations.
KROQ Favorite Acid Rock New Video
Jason is tripping in Hollywood at 2AM. Having just taken acid for the first time, he navigates through a vortex of geometric displays comprising the essence of life before deciding he simply must go on a night hike up the Beachwood Canyon trail to the iconic Hollywood sign. The band Jason has played guitar in since age 16 has just broken up after years of cross-country tours, and he suddenly faces an uncertain future. Unfortunately for Jason, as he approaches the trailhead he spots a group of coyotes heading down towards him. Have you ever seen coyotes on acid? They're scary as hell. Jason retreats back to his apartment, wallowing in disappointment at another lost opportunity.
Luru – 'Lazer'
Following a series of EP releases from co-label head TSVI, Houndstooth's Second Storey and Dutch newcomer DJ Missdevana, breakout club crew Nervous Horizon are to release their second, full-length compilation on July 21st — almost two years to the day since the release of Nervous Horzion Volume 1 in 2015.
Alex Francis releases video for 'The Last Time'
The video is a montage of footage following Alex's year so far, from his triumphant performances at this year's Isle Of Wight festival and Live At Leeds, to scenes from life on the road touring the USA and supporting Melanie C across the UK and Europe.
'The Last Time' was produced by Eddie Serafica (The xx, Jake Bugg), Ben Simon and Alex Francis and showcases Alex's distinctive rasping, soulful vocal.
Culture Abuse Share "So Busted" Video
San Francisco Bay Area-band Culture Abuse shares a video today for their song "So Busted" – a summer anthem about "all the stuff you are told you need in life but when it all boils down all you really want is to feel loved and cared for" according to frontman David Kelling. The video for "So Busted" was directed by Ryan Baxley (FIDLAR, Bleached, SWMRS)
Watch the video for "So Busted" now.
Planetarium "Neptune" video debuts today
Stevens, Muhly, Dessner and McAlister are in the midst of a limited run of special dates, accompanied onstage by strings and brass. Following a concert at the Philharmonie de Paris, the band will play July 18 in New York at Celebrate Brooklyn!, July 20 in Los Angeles at the Hollywood Forever Cemetery and July 21 at the Fox Theater in Oakland, CA.
Central Cali Heartthrob Baeza Embraces Life
Baeza may have been off the grid but that doesn't mean he hasn't been working. Returning after a long absence, Baeza drops 24, his entirely self produced 12-track mixtape. Packed with a diverse array of slappers and slow jams, such as the elegant head bopper "Balmain," the sensual, polished rap-n-b "Magic," and the wistful, keyboard-driven "Too Many Times." Featuring appearances from Lazy Boy and 2uesday, 24 is sure to have a song for your every mood, with Baeza as your smooth and sensitive tour guide. Premiered by RnBass, the 24 celebrates Baeza's 24th year, his first as a father, and is the first project the Fresno rapper served since his release from jail earlier this year.
Channel Swimmer's "Look Up, Paradise"
Created over a five-year period, 'Alphabet' is the 26-track debut album from London-based producer/songwriter Channel Swimmer. Made around summer memories, winter blues and nostalgic dreams, the album is almost entirely sample-based and features over a thousand samples. 'Alphabet' is a varied journey through genres, fads, countries and eras, with an aesthetic that reminds of acts like Avalanches and Washed Out.
RUSSELL SIMMONS' RUSH PHILANTHROPIC ARTS FOUNDATION RAISES OVER $1.1 MILLION
Rush Philanthropic Arts Foundation (RPAF) raised over $1.1 million at its annual ART FOR LIFE Benefit on July 15th at Fairview Farms in Bridgehampton, NY. Proceeds from ART FOR LIFE benefit the Foundation's signature arts education and gallery programs, which have directly served tens of thousands of inner-city youth over the past 20 years.
The private gala, themed "Midnight at the Oasis," was hosted by Soledad O'Brien. The evening honored Former President Consumer Beauty Division, Coty Inc., Esi Eggleston Bracey; rapper, author and producer, Chuck D; Chief Brand Officer, Uber, Bozoma Saint John; former President of Programming, BET Stephen G. Hill, and 2017 Featured Artist, Sanford Biggers for their support of the arts, career achievements, and overall commitment to our communities.
JUSTIN BIEBER ANNOUNCES PURPOSE WORLD TOUR U.S. STADIUM SUPPORT ACTS
Following the conclusion of the European, Latin American and Australia & New Zealand legs of his PURPOSE WORLD TOUR – and newly announced Asia dates – global superstar Justin Bieber has announced Migos, Kehlani, Martin Garrix & Vic Mensa as support acts for the tour's upcoming North American stadium run. Vic Mensa will join the tour as opener on all nine dates; Migos will join as direct support on five, and Kehlani & Martin Garrix will both join as direct support for two dates each.
Additionally, Justin Bieber and T-Mobile will continue their partnership into his upcoming US tour dates. Both disruptors in their respective industries, the T-Mobile sponsorship of Justin's US tour dates follow the global success of the #UnlimitedMoves Super Bowl campaign. The commercial, starring Justin, has more than 11.5 million views on YouTube since its debut.
"I'm excited to kick off the US stadium leg of this tour with the support of T-Mobile," said Bieber of the partnership. "I'm looking forward to bringing an amazing show to the fans, bigger and better than ever."