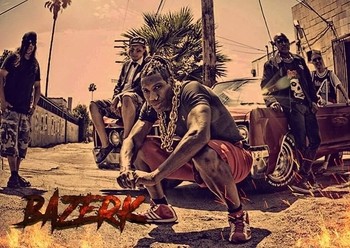 Marie Miller Releases New Music Video "Glitter Gold"
Glitter Gold is off Marie's most recent album Letterbox and recently premiered on AXS on July 6. Marie Miller is not like most artists, her song writing capabilities go above and beyond the norm, from telling personal stories to using classical literature for inspiration, she truly has no limits as an artist!
City Calm Down Unveil New Video For 'Blood'
Australian label I OH YOU (DMA's, DZ Deathrays, Violent Soho) is thrilled to announce the release of 'Blood' – the new single from Melbourne's City Calm Down. The first taste of the band's highly anticipated second album, 'Blood' was premiered on triple j and is out now.
MEXICAN CHILI FUNERAL PARTY Official Video For 'Vespucci'
Italian alt rockers, Mexican Chili Funeral Party have released their first official video from their recent album, Mexican Warriors' Revenge. Vespucci is a typical piece of high octane, speed induced madness that's a hallmark throughout the album. The video features the boys, some masks, a heist, lots of beer, a dash of horror and a sombrero'd guitar solo!
Nottingham-based producer Glacci returns to Terrorhtyhm for his debut album, 'Lifeforce', on July 31 — almost 18 months on from sparkling debut EP, 'Lucid'.
A record long-in-the-making, written over a period of extensive fine-tuning of his crystalline, trap-grime sound, 'Lifeforce' lands as Glacci's second release proper and forms both a natural and ambitious extension of the themes explored on 'Lucid'. "Lifeforce is an album about life, death and love", he explains.
Cedric Gervais – 'Somebody New ft Liza Owen'
Grammy Award winning producer Cedric Gervais' new single featuring British vocalist Liza Owens called 'Somebody New' to see if you would be interested to interview him for Skope Mag feature, 'Skoped Out' surrounding the single, in addition to winning a gammy for remixing Lana Del Ray's 'Summertime Sadness'.
'Colour'By Nearly Native and singer Femme
Nearly Native has revealed his debut track, the electrifying 'Colour' featuring vocals from Femme.
Nearly Native is a new music project conceived by London-based producer James Leggett. Until now, the fast-rising producer, musician and songwriter has been responsible for some eye-opening moments and jaw-dropping left turns in pop and electronic music. Whether this be as guitarist for Jonas Blue, writer and producer for V V Brown or writing hits for a plethora of other artists. He's even been in a band with hollywood superstar Jamie Dornan.
Indie Upstarts TRASH Deliver '81'
Chesterfield indie upstarts TRASH have announced the upcoming release of 81, the second track taken from their self-titled EP out next month. Specialising in summer jams of the highest calibre, their latest number is another wonderful slice of dream pop evoking comparisons to acts including The Magic Gang, The Night Café and Yuck.
The Church Announce Fall North American Tour In Support Of New Album
ARIA Hall of Fame members and Australian legends, The Church, are currently putting the finishing touches on their forthcoming new album: Man Woman Life Death Infinity (Their 26th studio album overall). The album will be released this fall and is the follow-up to their internationally critically acclaimed previous release Further/Deeper (2014).
Dillon Francis Releases Official Music Video for "Say Less" featuring G-Eazy
Platinum-selling artist, DJ, and producer Dillon Francis today released a music video for his current single "Say Less" featuring G-Eazy. The over-the-top video, directed by Francis' longtime collaborator Mr. Whitmore, was shot in Los Angeles and much like the song, chronicles a euphoric and raucous night out. The video stars Francis and G-Eazy and also features a special cameo by Australian actor Luke Hemsworth.
Vicente Garcia Releases Second Studio Album "A La Mar"
After six years of composing, recording and soaking up the native music of his homeland, Dominican multi-instrumentalist and composer Vicente García has released his second and most mature album to date, A la Mar (Sony Music Colombia). The twelve songs and two interludes were recorded in the Dominican Republic and Puerto Rico with producer Eduardo Cabra, a.k.a. "Visitante" of the Grammy Award-winning Puerto Rican rap group Calle 13. Combining Vicente's own pop-songwriting sensibilities with Caribbean and Afro-Antillean influences like bachata, reggae, pri-pri and gagá, A la Mar represents a giant step forward in Garcia's blossoming career.
Moor Mother performs: 'South London'
Boiler Room have worked with Philadelphia-based interdisciplinary artist, activist and political agitator, Moor Mother to produce a visceral live performance in a South London estate. Filmed in late April by Boiler Room's Sonny Jake, it features three unheard poems: two unheard gems from her archive, and one specifically written for the brutalist, council flat setting in Brandon Estate, Kennington.
Moa Pillar video for 'Sun Stood Still'
Moa Pillar returns with his second LP, 'Hymns', on Karelian label Full of Nothing. To be released on July 26th, 'Hymns' follows the epic album 'Humanity' (2015).
Offering up five tracks of transcendental heavy bass and beats, Moa Pillar aka Fedor Pereverzev, slams the worlds of authentic folk, tribal music, forward thinking electronica and dark techno together, unapologetically creating illuminating effects on his latest LP. Refusing to follow convention, Pereverzev produces his own, soul elevating sound art with his eclectic textures and sounds.
Neal Barnard's Carbonworks releases new video for "End of the World Suite Pt. 1"
"The End of the World Suite Part 1" is the first of a four-part instrumental piece on the CarbonWorks self-titled debut album. Featured on this track is the multi-talented Chris Thomas King, a New Orleans-based blues guitarist and actor who is widely known for his role in the Coen Brothers' films, O Brother, Where Art Thou? and Ray. Ground Sounds, who recently premiered the video, says of Neal Barnard the band creator and composer, "with a penchant for the avant garde, Neal constantly writes songs that defy any genre categorization."
Nadine Shah Shares New Track "Holiday Destination"
Today English musician Nadine Shah has shared the title track from her new album Holiday Destination (due out August 25th on 1965 Records) – a triumphant unification of a political message with an infectiously driving groove. The first song written for the album, "Holiday Destination" paved the way for Nadine to open up the deep and affecting dialogue which courses through the LP with polemical anger.