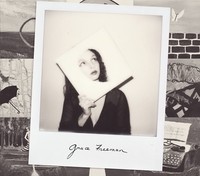 Singers come and go, some rule the world, other leave just an impression. The impact of a voice depends on a lot of factors and even if they don't turn out world famous, we would have at least hear an angel once in our lifetimes.
Grace Freeman sings like an angel, no doubt about that and Oliver is a beautiful song that gives her voice full range to fly with it. I cannot speak enough about her voice. Think of Oliver as a blend of folksy song that somehow finds a space in the realm of handpicked melodies accompanied by guitar strings and a simple piano line. Oliver is a pure auditory experience delivered by a very talented singer/songwriter with powerful vocals.
Grace has been singing since she was a child, her first performance was right after she turned 14. Since then, she has been the opening act for big names like Macy Gray and Suzanne Vega. She's just 19 at the moment and her new single, Oliver off the 2017 album Shadow, is a clear indication of the talent that has seen her heavily touted as one for the future. Her singing style is still undecided but she absolutely blew us away with this single.
She credits her biggest musical influences to be Coeur de pirate, Amy Winehouse and Paul McCartney. Oliver is a deep song that is simple and sentimental at the same time. It is pretty much a solo acoustic sound that is backed up by a very expressive voice that reeks of emotion. The melody spins the lyrics and take you on a poetic journey, expressing the challenges of being a human in love. It's a departure from the mainstream sound of today, something close to the country music of old or ballads of ancient times.
Grace delivered a vocal masterclass and exhibited her strong song writing which we can tell is quite advanced for her age. The track is delicate, the piano subtly picks up from where the introductory guitar works begin. The accordion sound is fused in to make a delightful pairing that makes an intimate delivery. Everything works to be honest and kudos must be given to her production team that did not drown her voice in heavy instruments. The choice of the guitar, piano and accordion allow Grace to wrap her impressive vocals around the melody.
Oliver is passionate and alive. It is delivered with deliberate precision and the song just unfolds organically. The narration is also highly descriptive, like the stuff of imagination. It all comes together. Towards the end of the song, everything comes together in unison and boy does it sound heavenly. You immediately can't tell when the song ends because you probably will still be on a high and be craving the ride to continue.
We're rating Oliver a solid 5-star. It's a beautiful introduction to Grace Freeman. It will make you want to seek out her album and explore what her musical world. Remember that name, everyone. Grace looks to be destined for graeatness.
By Rosa Dolfson