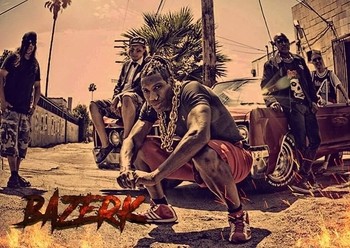 The All American Rejects release 2-track EP & short film 'Sweat'
Multi-platinum selling rock band The All American Rejects have released a new 2-song EP titled SWEAT via all digital platforms and streaming services. The two tracks on the EP, 'Sweat' and 'Close Your Eyes' mark the long awaited return from one of Alternative rock's most successful hit makers of the last 15 years and display a new chapter in the band's history.
"Every song was its own unique experience in terms of having the band find itself", explained front man Tyson Ritter. "It felt as though our identity crisis was over, and we got to take this back".
Joey Sweeney & The Neon Grease – "Baptized In Vibe"
Sweeney's new songs draw inspiration from sources as disparate as 1970s Philly nightlife folklore and Denis Johnson's The Incognito Lounge. In their new songs, chiming 80s 12-string guitars, classic rock sax solos and rainy bedroom Velvet Underground listening sessions all blend together. In these songs are little stories of triumph over dirty circumstance and grace under pressure, with the friendship of an urban family "street band" woven throughout. They're little tales of hard-won glory… in "Baptized in Vibe," Sweeney sings, "Everybody except me knew I would survive."
LUKAS NELSON & PROMISE OF THE REAL ANNOUNCE NEW ALBUM
Since their formation as teenagers 10 years ago, Lukas Nelson & Promise of the Real have quietly developed into one of America's most dazzling new live acts, playing hundreds of shows and major festivals all over the world, attracting a deeply devoted underground following.
Still, with a bounty of invaluable experience under their belts, nothing foretold the artistic leap of Lukas Nelson & Promise of the Real their new, self-titled album, a mesmerizing, emotionally genuine, endlessly rewarding work of cosmic country soul set for release on August 25th, 2017 via Fantasy Records.
SPINN have unveiled their new single, 'Notice Me'
Since the release of their last single, 'Home', SPINN have been admired for their dreamy sounds and youthful exuberance.
The four lads, who met at school, have been shown a lot of love online, garnering 50K (and still climbing) streams on Spotify, whilst also being booked for Kendal Calling, and selling out their first headline show in their hometown, Liverpool.
Avant-garde Pop Artist Kill J Signs to Nettwerk
Rising Danish experimental pop artist Kill J has joined Nettwerk Record's label roster!
The avant-garde pop artist returns with a brand new single entitled "Gravity," which premiered on The Line of Best Fit. Co-produced with Nector, who previously worked with her on Propaganda, it's another slice of brilliant leftfield pop that features synths, strings, and finger-clicks flowing in and out of the effervescent production… with all the distinctive Kill J hallmarks and intriguing themes.
UNSANE Launches Summer Tour This Week
New York City noise rock kingpins UNSANE begin their Western US tour advancing their Southern Lord-bound eighth studio album, Sterilize, this week. The band has issued a trailer for the tour which includes the public's first dose of the album's damaging tones.
UNSANE's first tour for Sterilize begins this Saturday, July 15th in Portland, with shows in Seattle, Denver, Omaha, Kansas City, Minneapolis, Rock Island, Chicago, St. Louis, Memphis, Dallas, Austin, Houston, Phoenix, San Diego, Los Angeles, and San Jose through August 3rd. Fashion Week will provide opening support for the entire tour, which is based around a performance at AmRep Bash 17 in Minneapolis on July 21st.
Grim Streaker Share "Miami Girl" Video
Tidal has shared Grim Streaker's video for the single "Miami Girl", which is featured on their new EP 'Girl Minority'. Prior to this track/video, the band shared the single "Psycho", as well as a video for their stand-alone single "Guts". 'Girl Minority' came out on Friday 7/7 and you can check it out on Tidal as well.
Echosmith New Album 'Inside A Dream' Out Sept. 29
Echosmith returns with their highly-anticipated sophomore album, Inside A Dream, out September 29 via Warner Bros. Records. The 11-song set marks the long-awaited follow-up to their 2013 Gold-certified debut Talking Dreams, which spawned the triple-platinum breakout hit "Cool Kids." A new track, "Goodbye," will be released this Friday, July 14, alongside the official music video.
TeamMate releases "Into Motion" remixed by Sunset Neon
The duo that make up TeamMate have a soft spot in their hearts for the decade of synths, shoulder pads and hairspray, having released covers of songs like Pat Benatar's "We Belong" which has also become a staple of their live show, were thrilled at Sunset Neon's remix of the track. "The first time we heard this remix it made us so happy," said Dani Buncher and Scott Simons. "It sounds like an 80's dance party, which is all we ever want to hear honestly. Sunset Neon took our song to a whole other level we weren't expecting and we love it."
WHITNEY TAI TO RELEASE MUSIC VIDEO FOR HER NEW BALLAD "HOW WAS I SUPPOSED TO KNOW"
Dream Pop Singer/Songwriter, Whitney Tai announces the release of her upcoming music video on July 20th for new single "How Was I Supposed To Know." Written and produced by Tai and Belgian Film Composer, Tim Janssens. The new ballad is a combination of swooning strings, delicate piano arpeggios and a sultry vocal performance wrapped around a surreal storyline. The video displays the synapse between hallucination and emotion; a dream sequence warped by time and space. Janssens, the visionary director behind the new video, trekked on a quest with Tai to the ends of Europe seeking places where fantasy and reality collide. The songs title illustrates a simple question to the universe which only the imagination can answer. Whitney Tai is a singer, songwriter, entertainer and designer from New York City.
SOiL to Release New Album of Greatest Hits
Chicago heavy rockers SOiL will release "Scream: The Essentials" on September 15, 2017, via Pavement Entertainment and AFM Records. Celebrating the band's 20-year career, this release will feature tracks from their humble beginnings, rise to fame, and also include alternate versions and mixes.
A brand-new track "Gimme Some Lovin'" will be featured on the compilation and released as a single and video. The track "Gimme Some Lovin'" originally made its on screen debut in the cult classic motion picture "The Blues Brothers" in 1980. Being primarily a Rhythm and Blues based song, SOiL took it upon themselves to add their own personal touch and bring the song into a modern 2017 Hard Rock element.
"Vocally, I really had a good time with the song," states vocalist Ryan McCombs. "It was a bit left field to what I'm accustomed to singing, but with the added touches we put on it, the song fell right into place."
Doom Side of the Moon Releases Video for Heavy Metal Version of Pink Floyd Classic "Time"
To celebrate 50 years of Pink Floyd releasing music that changed the world, The Sword guitarist Kyle Shutt has produced a heavy metal cover of their seminal album, The Dark Side of the Moon. Titled, Doom Side of the Moon, the resulting band and album features Shutt and a host of celebrated musicians including his bandmates from The Sword, bassist Bryan Richie and drummer Santiago Vela III, vocalist Alex Marrero (Brownout / Brown Sabbath), saxophonist Jason Frey (Black Joe Lewis / Hard Proof), and keyboardist Joe Cornetti (Croy & The Boys). Engineered and mixed by Stuart Sikes (White Stripes, Rocket From The Crypt), the LP will be released on August 4, the date which marks the 50th anniversary of the release of Pink Floyd's debut album, The Piper at the Gates of Dawn.
The Pollyseeds release new track "Mama D/Leimert Park"
The Pollyseeds just released "Mama D/Leimert Park," a new track off their upcoming debut album Sounds of Crenshaw Vol. 1 (out this Friday via Ropeadope). The track was premiered by Nate Chinen at WBGO, who said "What gives The Pollyseeds its core identity is a shifting combination of elements: Martin's brisk alto and woozy synths, Chachi's debonair rapping, Rose Gold and Wyann Vaughn's soulful singing. On 'Mama D/Leimert Park,' Martin's saxophone takes the lead, over a programmed beat that bends toward smooth jazz."
MEEK MILL TO RELEASE HIGHLY ANTICIPATED NEW ALBUM
Multi-platinum selling rap superstar MEEK MILL announces the release of his new album, WINS & LOSSES, available everywhere Friday, July 21st via Maybach Music Group/Atlantic Records. The album will be available for pre-order this Friday, July 14th.
WINS & LOSSES is the follow up to the Philadelphia native's critically acclaimed Gold-certified, chart topping sophomore album, DREAMS WORTH MORE THAN MONEY, and most recently, DC4, released in late October, which features the Gold-certified single "Litty (feat. Tory Lanez)."
Mazde Makes Dim Mak Debut With "Fading Out (ft. Rromarin)"
Los Angeles – Germany's Mazde delivers stunning production on his Dim Mak debut "Fading Out." The lush electronic soundscape is enhanced by Rromarin's warm, velvety vocals, producing feelings galore.
Boasting a future-bass discography that incorporates pop-laden melodies with percussive ingenuity, Mazde holds his own by producing track after track of emotionally evocative music. The Stoney Roads affiliate first blew up when YouTube tastemaker SuicideSheeep premiered his remix of Disclosure's "Help Me Lose My Mind," which has since garnered over 39 million views. He followed up with the collaborative EP Mazde X LissA, which earned accolades from THUMP, DUMMY, Clash and more.
NIALL HORAN ANNOUNCES "FLICKER SESSIONS 2017"
Fresh from the global success of his smash hit "Slow Hands," Niall Horan today announces that he will embark on the "Flicker Sessions 2017." Horan has spent the past year working on his debut solo album and will now bring his new music to fans in a series of intimate shows. Each ticket purchased for the "Flicker Sessions 2017" also includes a physical copy of Horan's forthcoming album.
Opening on home turf in Dublin, and then moving on to London, Stockholm, Sydney and Tokyo, Horan will play the Hollywood Palladium in Los Angeles on September 19, then head to Mexico and Rio De Janeiro. The run will include a show at New York City's historic Beacon Theatre (October 31) plus concerts in Toronto, Miami, Atlanta, Nashville, Dallas and Phoenix. It concludes on November 22 at The Masonic in San Francisco.
Saba Lou streams debut album via She Shreds
Saba Lou was born in the year 2000 in Kassel, Germany. She moved to Berlin with her family in 2005. She began her recording career at the age of 6, putting out a 4 song 7-inch on Atlanta's Slaughterhaus/Rob's House Records. At the age of 8 she recorded "Good Habits (and Bad)" which was then used for the end credits on Cartoon Network's "Clarence" t.v. show. The song was also released in 2012 on the "Until The End" 7-inch on Seth Bogart's (aka Hunx) label Wacky Wacko records.
Wild Cub Announce Fall U.S. Headlining Tour
Wild Cub has announced a fall U.S. headlining tour that will kick off in Seattle, WA on September 11th. The tour will take the band across the country and up the east coast before wrapping up on October 1st in Boston, MA. The dates include a September 14th show in San Francisco, CA and a September 29th show in Washington, DC, and tickets will go on sale this Thursday, July 13th.
TY DOLLA $IGN UNLEASHES NEW SINGLE "LOVE U BETTER (FEAT. LIL WAYNE & THE-DREAM)"
Ty Dolla $ign has released his new single, "Love U Better (feat. Lil Wayne & The-Dream)," produced by Dijon "DJ Mustard" McFarlane and Twice as Nice, which premiered earlier today on Zane Lowe's Beats 1 Radio show. The is the first single from the Grammy-nominated singer's highly-anticipated sophomore album Beach House 3.
Dalton Deschain & the Traveling Show share "Approximate Girl"
"For all of the usual weird songs we have about circus freaks and nukes, 'Approximate Girl' is a relatively straightforward breakup song," shared Deschain in a piece with Impose Magazine. "It's about the constant pursuit of some imagined perfect future, and the people we leave behind in that chase. Then when you realize that maybe you had it best when you were together, how do you pick up what's left and move forward?"
Stream the upcoming LP from The Stevens, 'Good', now on Hype Machine
Good picks up where their 2014 debut A History Of Hygiene left off – 18 short songs, alternately frenetic or laconic, packed with twists and hooks that merge lo-fi outsider songcraft with 70s prog wizardry and classic rock swagger.
Camille Rae Exposes Her Vulnerability with the Release of Music Video for "I Need Me"
Camille Rae exposes her personal connection to her single "I Need Me" with the release of highly anticipated music video.
Officially distributed to the public via Rae's Facebook, director/photographer Jacob Long was able to capture the emotional depth that Rae wanted to portray through two separate shoots and about three different edits.
"Working with Camille Rae on this music video was all about bringing her vision for the song to life," said Long. "We shot in a studio in downtown Knoxville where she gave a very real, very emotional performance in the video that comes through the screen. It shows her range and the scope of where she is headed as an artist."
TRUTH ALI COLLABS AGAIN WITH ROYCE DA 5'9″ & KXNG CROOKED
Cyhi The Prynce collaborator Truth Ali is back with two Summer-ready new singles from his forthcoming September 22 release, "The Wonder Years." Taking his inspiration from Prince's "Little Red Corvette" and it's 'one night stand' story line, Ali put a more positive slant on that concept and came up with "Accidentally On Purpose."
Also up is "Almost Paradise" – a remix that features Royce da 5'9″, Kxng Crooked and Iliana Eve that tackles the 1984 hit single of the same name from the "Footloose" soundtrack. The song is produced by King Graint and Jonathan Hay.
Choir Vandals' Debut Full-Length 'Dark Glow' Streaming in Full on Altpress
St Louis, MO's Choir Vandals are streaming their debut full-length album "Dark Glow" on Alternative Press:
The LP will be released on July 14th via Animal Style Records.
Vocalist/guitarist Austin McCutchen says, "This record is the first opportunity we have had to really show what this band is. We poured a lot of ourselves into these songs. It's the result of eighteen months of searching for our identity while struggling with a world that is indifferent to whether or not we exist."
Sonny Fodera & Cashino Release "Love Don't Fade" on AARRIVAL
Australian producer, DJ, and label head Sonny Fodera follows up the success of countless chart topping releases with the second single "Love Don't Fade" featuring Cashino on his new label AARRIVAL. With his undeniably signature groove-driven sound, Sonny Fodera follows suit with chart topping hits such as "Let Go," "Feeling U" and "Set Me Free." Listen as Sonny's sound meets a perfect pairing with Cashino Love, providing yet another infectious house cut designed for maximum dancefloor impact.
Kayla Jay – 'What If'
Aware that a certain type of body image is promoted throughout the music industry, alongside often trivial subject matter, Kayla Jay's music encourages listeners to seek a deeper meaning in life, and consider more than aesthetics before reaching judgements. Her soulful new single 'What If?,' reflects on elements of self-doubt within a relationship, such as questions over whether committing is the right thing to do, or whether a partner will end up taking advantage of this commitment and hurting you. 'What If?' covers real-life issues, without pulling any punches. Kayla does not make generic pop songs presenting a false, simplistic image of life.
Noisey shares new video from New Mystics (Josh Onstott of Other Lives)
Los Angeles art-rocker Josh Onstott, under the moniker New Mystics, has released a new music video for his single "Modern".
Describing the song as "the 21st century battle of addiction", the video is an equally startling depiction of addiction, abuse, and depression through the eyes of an innocent child.
Eric Nally (of Foxy Shazam) Premieres Debut Single!
In case you're unfamiliar with Eric, he's spent the past decade plus fronting Foxy Shazam as they played a pivotal role in bringing back the theatrical elements of rock and roll. Last year, we saw Eric emerge for the first time since Foxy Shazam went on hiatus to sing the chorus on Macklemore and Ryan Lewis' smash single "Downtown" alongside hip hop luminaries Melle Mel and Grandmaster Caz.
DJ Mustard Releases New Remix Package
DJ Mustard drops a new remix package, including three accomplished reworks of Lil Uzi Vert's "XO TOUR Llif3," Khalid's "Location" and Childish Gambino's "Redbone," all three are out now as free downloads.
Kicking things off with an evocative remix of "XO TOUR Llif3," DJ Mustard breathes new electronic life into the original by way of massive synth stabs layered over a bass heavy drum section, and chopped up vocals by Lil Uzi Vert. His remix of "Location," picks things up from the start with a melodic synth plucked introduction which leads to an emotive vocal rework of the original. The record builds into an atmospheric, and bass heavy remix, with plenty of swing and electronic emotion. On "Redbone," Mustard tastefully reorganizes the original's sonic elements; with transposed vocals, a trap induced drum section and analog synth stabs that pump massive energy into the mix. Overall the remix retains the emotion of the original but boosts it into an energy packed, dancefloor banger. The remix package as a whole showcases DJ Mustard's sonic ability to fuse elements of electronic dance music and trap. The release is an early glimpse into the direction and evolution of the talented producer's prosperous career ahead, and will not be soon forgotten.
Deepend Share New Track "Waiting For The Summer"
DJ-producer duo Deepend have dropped their latest single "Waiting For The Summer" today via [PIAS]. This infectious feel-good track replete with tropical housebeats longs for an infinite summer full of festivals. Enriched by the particular voice of singer-songwriter Graham Candy and the instrumental chorus created on an actual beer bottle, the track proves a surefire song for summer. Listen to the track and watch the video for it HERE.
Already acheiving global success with various collaborations, Deepend are certainly here to stay. Their remix of Matt Simons' "Catch & Release" reached platinum status in over 8 countries and almost 200 million streams, and secured their breakthrough in 2015. More recently in May the single "Hold On", a collaboration with American musician and Glee actor Chord Overstreet, entered #14 in the US Top 40 & included a live performance on The Today Show.
Heather Kenney premieres "Enough" on Nooga
Last Friday North Carolina-based acoustic songstress Heather Kenney premiered new single "Enough" on Nooga who compared her to Gillian Welch and Alison Krauss, noting "There's a rustic and comforting quality to her work, as if the ground of her native North Carolina simply opened up and offered these sounds from its earthen heart."
sing impeccable sound design and forbidding distorted vocals, Croatia's Matroda takes bass house on a dark ride with his Dim Mak debut EP BO$$, premiered by Run The Trap. Incorporating retro rave stabs on the title track and percussive shuffles on "Back To The Basics," Matroda distinctly warps the genre into one of his own making.
Mitchell Ferguson – "More Than A Drug"
Recorded at Native Sound Recordings in St. Louis, MO (Pokey LaFarge, Aaron Lee Tasjan), the EP, titled Basement Statements, embraces the challenges of the in-betweens in the 23 year old's life; Couch-surfing, heartbreak, recovery, identity. "More Than A Drug" is Ferguson's Blues-Rock anthem to love addiction.
The Dallas, TX based Singer/Songwriter just wrapped up a month on the road in promotion of the single. He'll hit the road again later this summer in support of the full EP.
Dustin Lovelis announces new album
Friendship Fever is excited to announce Been Hit Before, the new album from Long Beach songwriter Dustin Lovelis. To ring in the announcement, Dustin has shared new track "Tompkinsville" in a premiere via Buzz Bands LA, who praised its "jangling, twinkling bliss." Been Hit Before will be released on August 25, 2017.
Keep Shelly In Athens shares new single "Seattle" via The Line of Best Fit
The ethereal and swirling sounds of the ambient-influenced pop of Greece's Keep Shelly in Athens captures the transient feelings of city life and the inevitable passing of time. With lush melodic beats and dreamy vocals Keep Shelly's production is an accessible and lighthearted entry into the world of down-tempo electronica.
With previous releases on labels including Forest Family Records, Transparent Records, Planet Mu, Cascine and Friends of Friends, the duo have already transported their whimsical arrangements and soothing productions across the globe, including performances at Coachella Festival, Parklife Festival, Brighton's The Great Escape Festival and Austin's Fun Fun Fun.
NJ-based rockers Modern Crowds share "Closer"
The song premiered on Impose Magazine where the band's Joe Pellegrinelli (lead vox, rhythm guitar) shared, "I actually came up with the idea for 'Closer' on an acoustic guitar, but the song really erupted once Doug, Charlie and I jammed on it together. Once we brought it to Adam he recorded some tasty leads and there the demo was. We experimented a little bit sonically on this one in the studio, but it is primarily a rock tune. Our producer Paul had the idea to live track the drums, guitar and bass, and I think that really emphasizes the grittiness of the song.
Greg Ashley covers EP out now on Third Man Records
Third Man Records has had "awkward affections" for Greg Ashley since he first poked his head out of the garage-pysch voodoo underground back in the heady days of the early 2000's, so it's a big pleasure to announce that Greg Ashley & The Western Playboys' self-titled covers EP is out now.