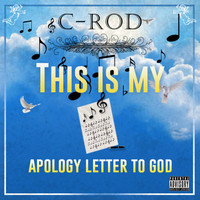 C-Rod's impeccable flow adds to the emotional heft of his highly confessional storytelling on the moving "This Is My Apology Letter To God". Intricately detailed, beautifully framed, the songs reflect upon a life with all its ups and downs. The melodies utilized throughout have a true heartfelt spirit to them, with the rhythms adding to the overall vibe of the sound. Layer upon layer of sound are brought together transforming C-Rod's work into a vast tapestry, one that tries to search for hope among the darkness.
Stream: https://c-rodakacrysis.bandcamp.com/releases
After the opener "Intro" things truly start with "Book of Life (Remember the Times)". Featuring a nostalgic yearning sample resting at the very heart of "Book of Life (Remember the Times)" the tone is set with great style featuring a languid, rolling groove. Prickly electro elements come into the fray on the anthem of "Shows and Lights (It's The Life) feat. Chelsea Takami". With a spirit, akin to that of an updated gospel choir is the tenderness of "Pain and Misery feat. Jeannette Berry". Downright beautiful is the lush sample and addictive groove of "Beautiful Life" which offers a bit of light into the storytelling. Tension pours out of the extended strings of "Long Shots". A reassuring message cycles through the comforting rhythms of "Diamonds and Gold". Playful sampling comes into focus on "Lady In Red (Mommy)". Nostalgia is infused into the kinetic energy of "Street Sharks". Ending things on a positive note is the spirited "Outro".
"This Is My Apology Letter To God" is a kaleidoscopic rush of color, one which is tied together by C-Rod's moving narratives.
By – beachsloth.com