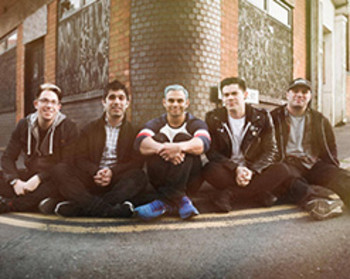 With a knack for writing ridiculously catchy songs combined with a DIY punk-rock ethos, our favorite Long Island rockers Patent Pending truly encapsulate what pop-punk is all about. From basements to festivals to countless cross-country and international tours, Patent Pending are equally known for their ability to make a serious emotional connection with fans- "You always have a home here at Patent Pending shows," frontman Joe Ragosta tells Fantastic Beasts And Where To Find Them- and their ability to make them dance.
http://www.patentpendingmusic.com/
Patent Pending's latest offering is Other People's Greatest Hits, released on Rude Records, "a ten-track cover album that runs the gamut from current chart-toppers to classic hits in an impressive variety of genres. With their takes on Ricky Martin's "Livin' La Vida Loca", Ed Sheeran's "Shape Of You", and more, The Moshville Times says "they're pretty much all way out of the comfort zone and yet they still sound like Patent Pending", while Thinking Lyrically praises the band's "talent for turning any song into an anthem."
On their mash-up of Tiesto's "Wasted" and Avicii's "Wake Me Up", Ragosta says, "It's very common and very easy for people to overlook EDM music. We wanted to make these two songs rock so people who would much prefer rock to EDM could hear these tremendous melodies and catchy sing along parts it in a more familiar way." The video for "Wasted/ Wake Me Up" shows Ragosta in his paint-splattered bedroom. A tennis racket flies off the wall, he smashes a guitar, and he uses a water gun to squirt even more paint all over the walls. It's a blast to watch- oh, and it's done entirely in reverse, with back-and-forth boomerang-style clips throughout. The video ends with him lying on the bed, the sheets and walls no longer covered in paint.