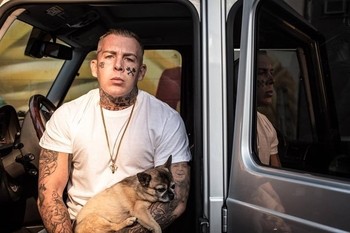 Madchild, also known as "The King of Underground Rap,' is a platinum-selling hip-hop artist, lyricist, songwriter, and producer. Madchild creatively pushes the limits by creating his own rhymes that articulate and captivates moments that are as individualistic as his lifestyle.
Madchild is back with a vengeance with his new album, The Darkest Hour, produced exclusively by Evidence, and will be released on July 28th, 2017 via Battleaxe Records. The album is a reflection of Madchild's darkest time in his life; he utilizes his aggressive lyrics as a piercing weapon against the demons he battled. Accompanying Madchild on this musical battleground are; Alchemist, Domo Genesis, Fashawn, Krondon, A$ton Matthews and Illmaculate.
Madchild has been featured in Billboard, Yahoo News, Sway's Universe (Sirius XM), Jason Ellis Show (Sirius XM), B-Real TV, The Chronicle- Herald, Eye-Opener TV, VICE, HipHop DX, Complex and many more.