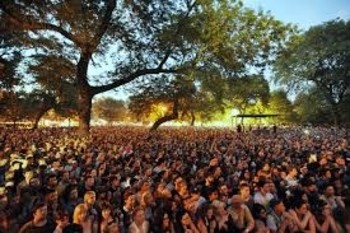 There's a sound in the air, calling you. Is that a pipe? No, it's an organ. Maybe it's a guitar? Actually, you know what it is? It's a music festival. If you haven't attended a music festival yet, now is the time to start. This is about an education in popular culture of the day.
How can you tell your children, nieces and nephews any interesting stories if you haven't done anything intriguing? You could talk about seeing Radiohead for the first time or Demi Lovato. Some of these artists will stand the test of time so you might as well see them while you can. Need a few more reasons to go? We've listed them here for you.
The music
If you're a fan of music, and your favorite artist is playing at a festival, then you have to see them live. There just isn't any comparison to standing within feet of your music idol. You're in the same space, breathing the same air, looking at similar views. If you're lucky, they may jump into the crowd and you'll get to touch them.
Plus, music festivals usually give you a good value for your money. A single concert can cost over $40. At a festival, you get to see several artists for multiple days of fun, camping grounds and food. Music festivals are also a great way to discover emerging artists.
In a decade, you can say "I was there!"
Taking the road trip to the festival
If you're going to attend a festival, you must make it a part of a road trip. Most likely you will be carpooling with some friends. Flying can be cost-prohibitive. If you want more space, you can also rent an RV. This way, you'll always have a place to shower, eat or get some private time as needed.
The good news is there is probably a music festival in your state or in a nearby state. According to an article on Outdoorsy, you have your pick of music festivals all throughout the nation. You probably had no idea there were so many. Now, you're most likely devising plans to get there.
Socialize
We're all so attached to our devices that we barely make time to look up at another person, or our beloved pets for that matter. At a music festival, you may check a few texts here and there but you'll be so immersed in the experience that your mobile device will seem secondary.
In addition, you get to socialize with other music lovers. You'll be there with your best friends, but that doesn't mean you can't make new ones. Who knows, you might even meet your future spouse. Nonetheless, you'll certainly meet a wide range of interesting people who can teach you something new.
Try on different outfits
Festival attire is often fun and funky. You can feel free to be whomever you want, even the polar opposite from your work life. There are no rules when dressing for a festival except to wear whatever makes you feel most comfortable. If you're creative enough, you may even get featured in blogs, social media and magazines.
See, now you have every reason to attend a music festival. Have you picked your favorite ones yet?