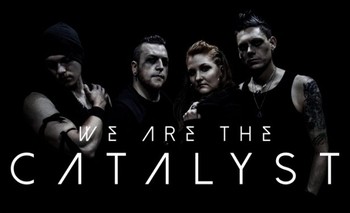 Having just passed the milestone of 2 million streams, alt Rock / Metal outfit We Are The Catalyst are celebrating and saying a big thank you to their fans by way of a new video release for the track "One More Day" from the bands critically acclaimed album Elevation.
http://www.wearethecatalystofficial.com/
""One More Day" is without a doubt one of the strongest tracks on "Elevation" and a song we are very proud of. It was one of those songs that was hanging loose for a long time in the writing process before we came up with the final touches, like the first verse, vocals and the melody of the chorus. It suddenly just turned to magic. Since then it has been one of my personal favourites." said guitarist and co founder of the band Kenny Boufadene.
On getting over 2 million streams, front woman Cat Fey sent a very personal message "To all our fans: Thank you all for your support, for buying our music and merchandise, for sharing us with your friends. Thanks also for putting us in playlists, using our music in your own videos on youtube and all the other ways people have discovered and shared our music – we are the proof that this is how modern bands can make it without the backing of a major label, instead building slowly and for the long term!"