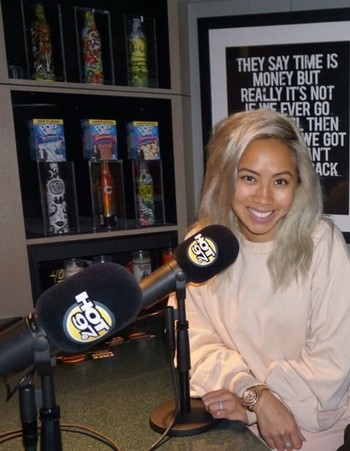 There is a saying, "You can take the kid out of Brooklyn but you can't take the Brooklyn out of the kid". This quote could not be truer when it comes to Jennifer Le who rose from having little to none growing up in Brooklyn to being the host of her own show on Hot 97. Jennifer's drive and ambition is what made her what she is today. Yet she does owe a bit to her mother's strict upbringing and the internships she was a part of.
Even though she landed in the radio business her first love was fashion. She attended FIT in Manhattan but soon realized that this was not for her. Jennifer would then enroll at the Institute of Audio Research and became a certified audio engineer. Her studies would lead to her internships with P. Diddy's company, Bad Boy Entertainment and then ultimately at Hot 97 where she worked her way from the ground up to where she is today. At Hot 97, she was the girl who would run for the coffee or park the cars, then assist in running the show. The hard work would humble her and she would carry that mentality with every opportunity. While she interned for the Cipha Sounds & Rosenberg Morning Show, she worked up to becoming the show's assistant producer.
"Interning at taught me the ins and outs of the business. I learned to utilize what I was taught in the present. Yet I am still that hungry girl willing to get the coffee and move the cars."
Jennifer has definitely stepped up from moving cars to running the social media division for Hot 97. She is the social media and content manager for the station. All social media is handled by her and her team. She was tasked to build the station's social following and today, it has blossomed to be the #1 social media market for a radio station in the world. It is a great accomplishment that she is very proud of.
Jennifer has also branded herself in conjunction with her hometown. Her radio name JENBKLYN has become a staple for her and she has decided to build on it. She has own her own radio show that airs Sundays from 10AM- 2PM on Hot 97. JENBKLYN has turned into a multi-media brand changing the face of Brooklyn. She has developed a clothing line and media work derived by the name. Her goal is to represent Brooklyn beyond its stereotype of being known as "the hood".
"People have this notion that you have to be from the hood in Brooklyn to gain any credibility. That's just bullsh—to me. There are so many layers, places, faces to Brooklyn and that's what makes the borough so special. I want people see BK as whole. There isn't just one side to who or what a Brooklynite represents. In a nutshell, I am what Brooklyn is. Everyone has a unique story. I want to break any stereotypes that people may have, that's one of my biggest goals."
Yet one of the biggest accomplishments is her own show called "Ladies First". It is a segment devoted to women who have made a name for themselves in more than one way. Jennifer seeks out talent that are doing more than the obvious like being effective in their community in some charitable way. The show is in its 2nd year and has grown considerably. One of her most favorite segments was when she interviewed Hip Hop legends Salt & Pepa who were the pioneers of women in the genre.
That specific interview was recognized by the 2016 YouTube Women's Global Campaign NYC Representative. That specific campaign included shows from London, Tokyo, Sao Paolo, Los Angeles, Berlin and New York. It was not an easy task to get the show off the ground. Hot 97 is a male dominated demographic but Jennifer felt that women needed a voice.
"I decided one day to go to my superior with the idea of a show to showcase women. I had to fight for that show and it has paid off to the surprise of many. I am very proud of it as we move forward building it up."
Currently, Jennifer has other ventures she is looking to tackle. On the horizon she along with two educators are working to open a charter school in Bed-Stuyvesant in Brooklyn. The school will cater to young women interested in entering the entertainment world. The BELA Charter School, which is the name, is looking to open their doors sometime in August. This is one of many examples of the charitable work Jennifer is always looking to take part in.
On June 10, 2017 she was honored at Brooklyn Borough Hall during an event that focused on cancer awareness. The event was produced by Triple SSS Entertainment, LLC where the panel discussion was moderated by the esteemed Dr. Mona Jhaveri and featured many influential speakers on the subject, like NFL Kareem Huggins, NYCDOE SVP-Doug Thiede, just to name a few. Jennifer was more than honored to take part in such an important gathering on such a sensitive subject.
Jennifer will soon also be a part of a major motion picture project in the coming year. Besides that she is looking to branch out the "Ladies First" theme into a Talk Show and begin work on a sunglasses/fashion line. Jennifer is always on the move to develop new ideas, especially when they have to do with empowering women and her brand. It is no surprise that companies are looking to endorse JENBKLYN and plant more of her flags across the globe. You can keep up with Jennifer socially through these links.
By – Nick Christophers
http://5iftyshadesofj.tumblr.com/
https://www.instagram.com/jenfrombk/