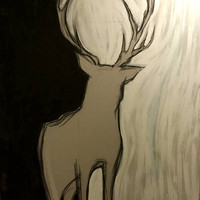 Fox Grin is an artistic rock dream pop duo, joined by 2 to 3 musicians when performing live. But before any live performances take place, this act is simply a duo called Fox Grin just as they have said. That being the case, Fox Grin have gone ahead to write and record for their latest and newest release in the form of an EP titled "Dawn".
"Dawn" as an EP consisting of 4-tracks, runtime of about 10-15 minutes tops. During which time, you are taken across on a musical journey of sorts. As Fox Grin is made up of rock, dream pop, pop, indie rock, psychedelic rock, and alternative all blended together to create this EP we are discussing here, right now. How does this EP hold up with such a variety of genres to listen in on. Well the EP as a whole by itself, sounds rather decent. The quality found on the EP sounds really well put together. Everything from the instruments to the vocal chords, sound in such tip top shape, with a clear crisp vibe, it makes it more enjoyable to the ear.
For instance when listening to this EP from front to back, you just get this sensation of joy and harmony flowing right through the music. As if the instrumentation and vocal chords working as one, to draw you in ever so further on this musical journey, that you won't know how or where the music will take you to next. The vocals for one thing are so smooth yet clean cut, that they give off a more acoustic front than the typical rock center approach. Fox Grin sounds a lot like The Beatles meets Rooney with their vocal appeal and musical style. So you get a glimpse of the past with the present meets the future i.e. Fox Grin.
If that is not enough, the tracks off this release, could fit within any type of release, in regards of media, ranging from film, to television, to perhaps even some type of animation. Fox Grin's style is just that breathe taking, it is aw-inspiring even. The musical journey their music gives off, does bring out more of the past, than just comparing these guys to The Beatles, and present day act Rooney. Oh no, far from that concept. Their music is more to the feel of the late 90's to early 00's, with other great acts in existence like Plain White T's with their break out of a hit "Hey There Delilah", or perhaps even Jason Mraz's "I'm Yours", back during those fun times.
Fox Grin's "Dawn" EP is a solid piece of work, with such craft, creativity, and passion, put in that these guys will surely be going places in no time at all. They have got a style that has got great crafting ability, for them to shape and form, ever so further. That it can reach the greater masses of the music scene, hitting the likes of more fans and media personal with no problem.
By: Natalie Perez – natalieannnperez@gmail.com