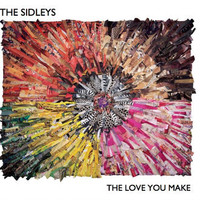 Full of vitality and color is the funky psychedelic rock stylings of the Sidleys' "The Love You Make". Passionate to its very core the way the songs unfold gives them a majestic tenor. Vocals lead the way and dominate the rest of the proceedings. Everything simply works and the multiple layers collide in a glorious display. Melodies are infectious and the grooves so inviting. Instrumentally rich the songs are a virtual kaleidoscope of textures as the Sidleys rush through them with the utmost of joy.
After the short "Intro" things truly get started on the classic quality of "You and I". Vocals possess so much energy as the song drives forward with so much heat. Nearly bluesy in temperament is the glistening keyboard work of "If This Is Goodbye". By far the highlight of the album is the long-lost am sound of "The Love You Make" whose beauty is akin to that of a gentle summer breeze. Stripping things down to the essentials is the luscious lovely tones of "Break Me Down" whose defiance sounds so decadent. Tapping into a delirious 70s airy jazz-funk hybrids is the blissful "Angeline". Delving into a western twang is the narrative journey of "Birds, Already Flown". Ending things on a giddy note is the electro whirs of "Happy Hour".
With such a wide array of stylistic twists and turns, the Sidleys make a thoughtful, perfectly playful kind of pop with the undeniably soothing "The Love You Make".
http://www.thesidleys.com/music
By – beachsloth.com