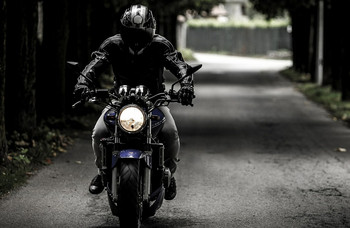 As the weather starts to get nicer, many people enjoy touring and traveling the country by motorcycle rather than car or plane. There is a certain sense of freedom that only comes on the back of a bike. If you own a motorcycle you already know the adventure, adrenaline, and scenic views that come along with a rumbling engine and an empty highway. This summer make sure you pick a destination worthy of your ride. Here are some of the best roads to help you enjoy an amazing motorcycle ride.
Peak to Peak Highway (Colorado)
Peak to Peak combines twists with unique scenery. Riders will enjoy their view of the Rocky Mountain vistas as you head through the Continental Divide in Rocky Mountain National Park. The road heads through valleys and switchbacks through forests. You may encounter elk and moose as you ride and there is a scenic trail that you can also hike overnight.
Blue Ridge Parkway (Virginia, North Carolina)
This famous mountain route is on the must ride list for every serious motorcyclist. The Virginia part of the route passes a number of different civil war battle sites. As you head South, you will encounter the Great Smoky Mountains where the Blue Ridge Parkway is known for its curves and scenery. Be sure to ride through Shenandoah National Park if you get a chance to slow down here as well.
Pacific Coast Highway (California)
The Big Sur section of California's highway offers a number of different treats; surf, redwood forests, and beaches. The highway stretches from Malibu to the Oregon border. Take some time to visit the Hearst Castle, and don't forget to dress for the warm weather as well as rain you might encounter. Because of sharp curves, cars probably won't see you right away and you'll want to stay protected with helmets, protective gear, and a well-maintained bike.
Going to The Sun Road (Montana)
This 50 mile stretch has become popular among serious riders today. Going to The Sun Road transcends Glacier National Park, climbing from Lake McDonald to The Summit at Logan Pass. There are amazing views at Jackson Glacier Overlook and lots of mountains goats and sheep throughout the road.
Beartooth Highway (Montana, Wyoming)
The Beartooth Highway is known for its hairpins and switchbacks. Starting at Red Lodge, Montana, the National Scenic Byway is like a roller coaster ride with so many twists and turns through Beartooth Pass in Wyoming. You'll head pass the Custer and Shoshone National Forests. You'll also encounter plenty of summits, most of them with snow still on them from the previous season.
Coastal Route One (Maine)
The Coastal Route One is an important part of the New England Experience. You'll head through seaside villages and lighthouses and there are plenty of detours as the road does have high speed open sections. Avoid bumping into a moose, as they sometimes appear around the bend. During the Summer head to one of the Coastal Route One's many lobster shacks.
This summer hit one of America's favorite highways and see the sights from the back of your bike. You'll be able to feel the wind on your face and see the best views with any of these routes.