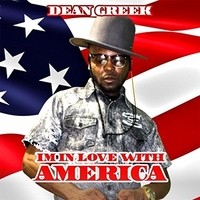 Growing up with a knack for music, Dean Greek soon found himself immersed in it as he interned at labels like Warner, and soon found his way to being an artist. Blending the soul of R&B with the rhymes of hip hop he's creating a local buzz in New York playing showcases all over the city. Currently promoting the release of his new single, "I'm In Love with America," Dean Greek describes the song as, "A love song about the good, the bad, and the ugly side of America. Its ups and downs." Not many rappers are taking this stand in their music and lyrics, but this one is. "I'm In Love With America" and others by Dean Greek get a word in this review.
Rap isn't everyone's cup of tea, so, if not up your alley this makes for no more reading that writing about than it does if that is the case. Dean Greek is out to prove that he's more than a rapper though, he's more than a singer as well. It's about being a lyricist and on this single it is about getting the message across that America isn't doing so well. These are the times for it, so, he's bring the word of love to the subject instead of all the hate going around. If that's negative then we're in even more trouble than he knows. But let Dean do the talking, it's his platform and he's taking no prisoners in the process.
"I'm In Love With America" is his latest way of looking at things. But he doesn't like what he sees, but it's not all a death sentence because he's in love with her, even though he's mad at her. This is something that any non-hating citizen of any country can relate to. In-fact you know right way that he's a singer with soulful values and not merely a rapper. Rapping from the root beginning has been much more about rhyming than singing. But what it legitimately has in common with singing is lyrics, and rap might even be a higher form of lyricism.
I know I can relate to every word of the song, so, it just makes sense to to think something that makes this much sense can be reckoned with by anyone. He's not telling lies, as he just kicks back to the beat and puts his word about the country out there. His rhymes are witty and flippant at the same time, but there's no lies or trash talk in the process. The chorus needs to be heard across the nation and it goes to show why he thinks this should be the second "National Anthem." A comment he makes in the beginning of the song. His raps are excellent and so are his infectious beats.
This is more of a healing track than anything, as it drives home its own purpose without confusing you. He can rap and cut the jam side all the same, and the song is good. If you deny it then so be it, but every word is true, so it is really only a matter of taste. I'm sure Dean Greek knows this, and that is probably why he had to release it. He has other tracks out there too, like the hilarious "Welcome To New York / Donald Trump vs Ted Cruz." But it is one of the explicit nature, but sometimes the truth is funny. And another one to check out is Ratchet Chick, a rap about a girlfriend over some snappy beats. It gives a more in-depth look- into this humble, talented and cool laid back artist who's in love with America, even though he's mad at her.
AMAZON: https://www.amazon.com/Im-Love-America-Dean-Greek/dp/B01N9V7B0U
Larry Toering