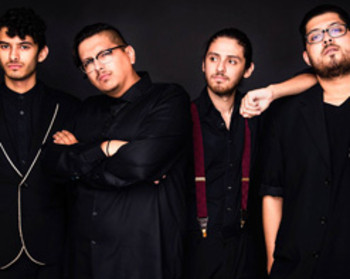 An "avantist"- or avant-gardist- is an experimenter; one who's ahead of the curve, creating art that's new, unorthodox, and experimental. Avantist, then, is the perfect name for a Chicagoland quartet of brothers that pushes the boundaries of progressive and post-rock. Luis (drums), David (guitar), Erick (bass), and Fernando (vocals) Arias grew up in a musical home, but it wasn't just rock and roll they were surrounded by. Their father was a mariachi performer and later worked as a DJ for Spanish-language radio stations in the area. This has been a push for the band to constantly improve their musicianship; Fernando tells the Chicago Tribune that "He puts me to shame every time he sings."
Since 2008- when Luis, the youngest, was only 13 years old- they've been creating music that's as hard-hitting as it is eclectic, and as infectious as it is comical. Local Loop praised the band's "expansive sound and technical intricacies that are often overlooked in favor of power chords and jangling melodies." The band states, "We wear black to mourn life"; and cites everyone from Queens of the Stone Age, The Mars Volta, and Kings of Leon as influences. But it's not just other musicians that inspire the Arias brothers to create: every aspect of life, from experiences to emotions to people, places, and things influences their music.
"Tidalwave" was originally released on TRANSRADICALMASH in 2013, and was re-released on the band's self-titled album this year. It's set to be included on the band's Sony Records / The Orchard debut (due out later this year). The track takes the band's post-rock-meets-prog-rock sound and adds a bit of surf rock and a small touch of punk for quite a unique flavor.