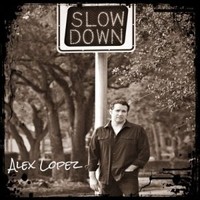 Cleveland native and guitarist Alex Lopez's third album, Slowdown, is a remarkable realization of this gifted musician and songwriter's talents. His first two studio releases showed him to be a fiery, inspired player of traditional blues and blues/rock, but this third release shows that his songwriting skills continue to grow at an exponential rate. Lopez has his band the Xpress in tow on these songs and its fourteen songs might sound a little like overkill to some listeners, but Lopez and his collaborators keep swinging for the album's duration and never show a single hint of getting tired as the release progresses. Lopez's sound surely embraces the traditional loves driving the heart of his music, but it's presented in a thoroughly modern context that even casual fans will find appealing. Slowdown is a winning effort from the beginning to the end.
NAPSTER: http://us.napster.com/artist/alex-lopez/album/slowdown
"Dangerous" kicks off things on a particularly raucous note. Lopez comes out swinging with a whiplash guitar riff that has just enough phasing spiking its tone. The band is crack as well – there isn't a single seam clumsily stitched together here and the rhythm section, especially, provides solid support. The backing vocals are a nice touch. The album's title song is a sleek, muscular blues rocker with lightning quick lead runs and straight forward, propulsive drumming that sets an immediate tone. The energy level continues unabated on the track "Words of Wisdom" with its varied guitar attack and Lopez's scathing runs leading the way. He has a perfectly measured guitar tone – it spits grit and gravel in equal measure, but there's appealing warmth surrounding his sonic fingerprint defining each of the album's fourteen numbers. There's just enough slide guitar knifing through the song, as well, to sharpen its teeth a little more. He and the band take on a more compositional approach to the guitar during the song "Enough of It" and the shift in musical approach comes at a welcome time. Lopez and the Xpress cannot be confused with the one note bands that blast out blues rock at a high octane mark and never vary their approach. This is an album unafraid to mix things up and they derive excellent results from those efforts.
The slow midnight crawl of "Stolen" gives Lopez an opportunity to show his ever improving vocal chops. It isn't a classically beautiful voice, thankfully. It's a voice shot through with wide strands of blue and he gets over the situations of each song with plain-spoken, attentive passion. The song benefits from the addition of organ and adds just the right amount of color. The Beatles influence in his music comes through vividly on the song "Alive" which, largely, orbits around the twin forces of his plaintive vocal and a melodic, hypnotic organ line. Slide guitar is a difference maker once again on the finale "War Without a Face". The lightly martial drumming is an obvious touch, but the slide punctuates it nicely with color. It ends a tremendous album on a substantive note and sets the bar high for Lopez's recording career from this point forward. Slowdown is the fullest realization of Lopez's talents yet.
AMAZON: https://www.amazon.com/Slowdown-Alex-Lopez/dp/B06XZNSFBZ
Jason Hillenburg