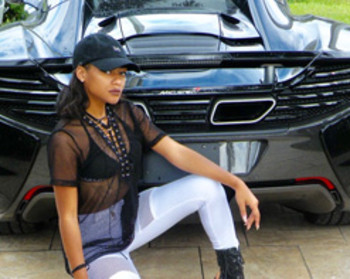 Hailing from beautiful Tampa, Florida comes rapper ChevyGurl (Vanisha Davis). Her father is a long-time music producer/D J, so she grew up in the studio. While her first official single was only just released, ChevyGurl has been writing since she was in elementary school. Named for her love of classic cars- particularly the '67 Chevy Impala- ChevyGurl is not only a dreamer, she's a doer: "I chase after what I want, and I don't stop to take a breath" she said in a recent Instagram post. While her music is compared to hip-hop and R&B, ChevyGurl ultimately cannot be compared to anyone else. In fact, her debut album (which she expects to release in the next few months) is going to be called No Genre, because it can't be described by any single label.
http://www.chevygurl.hearnow.com/
ChevyGurl started 2017 off strong, releasing her first official single "Skinny Jeans" on January 1. "Skinny Jeans" features Cincinatti-based recording artist Sada James, and has received airplay on 95.7 The Beat, Tampa's Hip-Hop/R&B radio station as well as other stations around the Southeast. The song will make your head bob and your feet move immediately from start to finish. "Skinny Jeans" was produced by Demorio Hall and composed by Vanisha Davis (ChevyGurl) and Sada James.
The "Skinny Jeans" music video is a dazzling visual effort. Produced and directed by Brent Mendoza, it was filmed in Sarasota, and Bradenton, Florida, just over an hour south of Tampa. ChevyGurl says the video is "about a girl who has everything in life." Our leading lady goes to the mall to pick out "the cutest pair of jeans", drives two different convertibles (a red Chevy and a black Ford Mustang), and meets some cute guys along the way. We see her in various outfits throughout the video, always featuring skinny jeans and always "looking fine as hell", as ChevyGurl sings in the chorus.