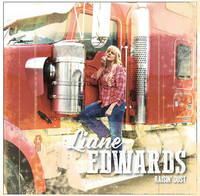 Liane Edwards' seventh album features twelve original compositions recorded in collaboration with Trace Adkins' guitarist Brian Wooten. The dozen songs add up to a concise collection never taking chances with self-indulgence; the songs, furthermore, are fixed on certain goals each time out and Edwards' experienced hand never wastes a single word or note pursuing those ends. Her songwriting on Raisin' Dust, naturally, examines classic themes in popular song and their sound and genre orientation proves not nearly as important as how clearly she communicates her narratives to the audience. While Edwards certainly embraces tradition, there's a thoroughly modern sound to Raisin' Dust full of spirit and individuality. This is a recording and performing artists who has enjoyed considerable success, but Liane Edwards is clearly approaching or standing at the peak of her powers. This, likewise, is an album positioning her for meaningful crossover success and should exert a strong appeal reaching far beyond the country genre.
FACEBOOK: https://www.facebook.com/LianeEdwardsOfficiel/
The first song "Rainy Day" moves at a steady march and showcases a spirited vocal from Edwards. There's some important instrumental breaks near the end of the song with Wooten's intense and deeply emotive guitar work. Much like the other songs on Raisin' Dust, "Rainy Day" rings out with unquestionable sincerity and fantastic potential for radio play and compelling live performance. There's a delightfully rollicking quality to "Give It A Try" that Edwards capitalizes on with an equally lively vocal. She grabs a hold of a strong rockabilly vibe on the track "Drive" and it's quite impressive to hear how closely her vocal hews to the arrangement while still sounding very inspired. A consistent quality about this collection is how the backing musicians, particularly Wooten's guitar, remains focused on serving the song. Musicians take immense pride in their skills so it actually deserves our note anytime we encounter superior players who resist the opportunity to throw a little flash into something when it isn't called for. No one working on Raisin' Dust does that and the album benefits as a whole. There's links to classic country ballads discernible on "Nothing Compares" and its lush, unrolling quality achieves a stateliness and emotive feel that's difficult to dislike.
"Borrowed Time" is one of the album's strongest numbers. Edwards shows a talent for subtlety here reaching far beyond what a lot of successors ever aspire to while still offering up an accessible track any adult listener will relate to. She takes on a surprising jazzy saunter with the track "Gypsy Bone", but it's never the purist sort of approach some listeners might fear. Adopting the trappings of this serves as an excellent vehicle for Edwards. She shows her versatility with the song "Cowgirl" and the raucous air of the performance is full of honest to God zest that's impossible to duplicate. "Out of the Blue" kicks off with twang fanfare and ends Raisin' Dust on a great note. The arrangement is a tight shuffle that the band plays just right and Edwards ass a particularly lilting edge to the performance. To be sustaining such high artistic quality this late in her career is an impressive testament to her continued insistence on growth. Liane Edwards shows no signs of slowing down with her latest release.
Jason Hillenburg