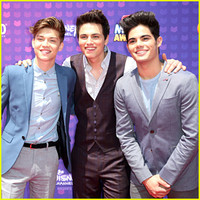 The L.A.-based Boy Band Trio has had a big head start, having toured North America on the 2015 DigiTour alongside Demi Lovato. Fans know Ricky from his starring role on the Disney Channel Original Series "Best Friends Whenever," and Emery from his co-starring roles on Disney Channel shows such as "Dog With a Blog" and "Lab Rats." To trace the band's origins, head east to Long Island, N.Y., where cousins Liam and Emery grew up. In 2013, Emery auditioned for TV's "X Factor," where he met Ricky, a Texas transplant living in Los Angeles. The two became friends, and formed Forever in Your Mind, made a trio when Liam joined them. Jump ahead to May 2017 with a tour just around the corner, and Forever In Your Mind snap back with a couple of their best tunes to date. The bluesy, brooding "Smooth' and the higher-flying "Missing" for this a-sided two track single. After hearing this band a few times before and not being overly impressed, this is far cray from some of those songs. You can't help but tell they've grown and so has their music. But these two self-penned tracks got the right producers involved to take it them over the top for them and leave it to the pros and cons.
But luckily there are no cons in sight, and the end result is almost like a trip hop adventure for them, either that or they've got other material that sounds this husky. I'd have to look more into them for that but I don't have to in order to call this a world class offering for what Boy Band are putting over. These guys are good at what they do, so as long as that's what everyone in the room is into, there is not one qualm to be had with them. They are as good as the best Boy Bands of the 90s. Maybe they're riding the top of that wave for all anyone knows. They're god enough to do that with this release in hand.
RELATED ARTICLE:
http://www.broadwayworld.com/bwwmusic/article/Boy-Band-Trio-Forever-In-Your-Mind-Release-New-Singles-Live-Dates-20170515
"Smooth" is a monster love song with all the right groovy bells and whistles. It's a cut above most of their tracks, and although it doesn't beat the other song it's properly arranged over it. They show their singing chemistry and the lyrics never bore whether young or old, male or female. You might think they just jumped off the bus, but they've been doing what they do long enough for their fans to agree and the masses yet to find out. There's room for a lot of these bands and if they're thriving I'm all for it, especially if they're this good. I was surprised when I heard these tracks, because I didn't expect as much greatness. "Missing" follows the same level of songwriting capability while turning the energy around, dropping a whole other bomb of ear candy that puts the icing on the cake and only leaves you wanting more. Each voice seamlessly matches the other like it's one voice at times, and it's almost scary to think of how good these guys will all be when they're another ten years older. "Missing" sure does make me wonder of that and more, as where the first track had my mind bent over the opposite wonders. They "cast their line and now I'm hooked" to quote another FIYM song I can also gladly recommend.
Terry Smith