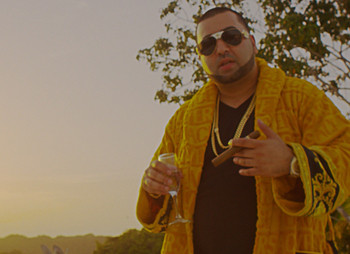 It's rare that an unsigned, underground artist is able to gain traction on their own, but Queens-based rapped Water has done just that. His debut music video for "Loco", which was released in September of last year, has gotten over 100,000 views on YouTube, and his follow-up single, "One Night", has received over 60,000 streams on SoundCloud.
With nearly 93,000 streams in just under two months, Water's "One Night" music video is on its way to becoming a huge hit. The music video for "Loco"- which was featured on sites like Worldstar Hiphop, Early BBQ, and Hood Illustrated- expressed his feelings about Donald Trump winning the 2016 U.S. Presidential election, but while both videos were formed in Puerta Plata, Dominican Republic, "One Night" takes a different turn. Beginning with an aerial shot of Puerta Plata, the video shows Water living a life of luxury. He walks out onto a balcony in a gold, velvet robe, and is then met by a ravishing, angelic woman. We see him smoke expensive cigars, drink champagne by a swimming pool, and drive a Rolls Royce.
Like "Loco", the music video for "One Night" was directed by Peter Dmitriyev, whose past credits include videos with artists ranging from British girl group Little Mix to Bronx-based rapper French Montana. Both "One Night" and "Loco" were produced by DJ Thoro, a New York City-based producer who's featured on 50 Cent's entertainment & hip-hop community This Is 50.