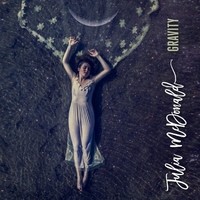 Here we go another person wanting to do music. Just like any other person that wants to do such and such in whatever it may be. In this case it is music of course, from an up and comer named Julia McDonald. But she is more than just another indie pop artist, breaking onto the music scene, so her social media says about her. But does it stick, is she really more than just another one in the crowd? Well "Gravity", is the name of her latest and newest piece of work and it sounds decent enough.
Julia McDonald's "Gravity" is just like the title says, real life gravity, in which something in some shape or form is brought toward one another, causing this effect to occur of such feeling and emotion it is a real natural phenomenon. That said, though the song itself is like a lot of other pop songs by numerous artists out and about these days. It has that same flare of essence, like other artists ranging from Haley Rose another up-and-comer, as well as other acts like Moxy And The Influence yet another up-and-coming band, not artist that is hitting the music scene currently. These up-and-comer's all have something in common with Julia McDonald, which is that they are all coming out onto the music scene, with their creativity as artists, and musicians, showcasing a real talent.
Stream: https://www.reverbnation.com/juliamcdonald/song/24934553-gravity
As a matter of fact, Julia McDonald is not only an up and comer, but she is only 19 years old, if you can believe that or not, that is your take on it. But she is not the only youngster to address her, Moxy And The Influence are another set of youngsters, standing upon this music scene, doing their thing just fine. Age should not define who you are as a person, let alone an artist or band. It is about the person and what they can do, and these young women have got what it takes clearly.
If that is not enough for you, Julia McDonald not only released this song called "Gravity", but it was also included on her EP of the same name. That EP just as this song, is filled with such depth and honesty, that it makes the song that more captivating to the ear. Her vocal chords swaying the melody of the music, allowing for that tone of the music, to drift into a course of emotion, pride, and success for this artist as a whole. See how she is able to create a piece of work, that can sooth and move you as a person, it is what she has done with "Gravity".
She has taken into her hands, an ability and skill set that she can develop and expose over time. Building up on her passion of creating music, just like anyone else that wants to do the same. Julia McDonald may be another one of those up-and-comer's, but she is one of pure uniqueness and creativity. She is one of those to keep a watch out for, because she will raise up to the top of the charts in no time at all most likely.
http://www.juliamcdonaldmusic.com/
By: Natalie Perez – natalieannnperez@gmail.com