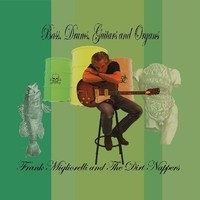 Frank Migliorelli and The Dirt Nappers tap into the heart and soul of rock and roll with "Bass, Drums, Guitars & Organs". Representing the best Americana can offer, there is true grit with the intimate, perfectly crafted sound. Besides these styles, Frank Migliorelli clever storytelling graces the entirety of the album with his strong expressive voice resting at the very center of the sound. Elements of the blues and folk also weave their way in and out of the gorgeous classic sound that radiates throughout the album. Production values are pure perfection, at times feeling akin to Jon Brion's clever, western-tinged work.
"When She's Walking By Your Side" starts the album with punchy percussion and a giddy guitar work. Much more downtrodden in scope with some fantastic banjo work is "I've Been On My Knees". A little bit of dreaminess comes into play on the angelic scope of "Handful Of Rain" where the organ work adds to the warmth of the sound. Stripping things down a bit is the intimacy of "Rafferty Train". Easily the highlight of the album is the rush of "Wound Up Woman" whose infinitely catchy riff works wonders. Jaunty with a slight nod to jazz is the mellowed "Rockin' In The Moonlight". Bringing everything to a soothing close is the thoughtful sound of "Former Femmes Fatales And Romeos".
http://www.frankmigliorelli.com/
With "Bass, Drums, Guitars & Organs" Frank Migliorelli and The Dirt Nappers deliver a sound that feels positively timeless.
By – beachsloth.com