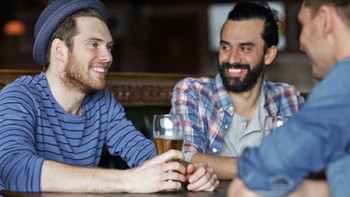 Who doesn't love the idea of a weekend away, particularly during the summer months? You can get on a train, plane or take a car ride on a Friday afternoon and be back by Sunday night.
When you're going away for the weekend, you want to pack light to keep up with the idea of the fun spontaneity of a short trip, so how can men master this?
You want to make sure you have all the essentials, but that you're ready to pick up and go right after work.
The following are some tips to pack the perfect weekend bag, no matter where you're going.
Choose Multipurpose Grooming Items
You want to look great on your weekend trip, but you don't want to pack everything you own.
That's where versatile grooming essentials can come into play. Choose a high-quality hair product that will do everything you need it to, and a combination sunscreen/moisturizer. If you have these two items, you're prepared for pretty much anything the weekend throws at you.
Use the Right Bag
Invest in a great weekender bag. Choosing the right bag is important, particularly if you're going to be flying. You want it to be large enough for all the essentials, but also lightweight, and if possible, it will fit in an overhead bin.
For summer travel a sturdy cotton twill bag works well.
Make sure it is durable and has a strong strap so you can grab it and go.
Bring the Perfect Pair of Jeans
If you have the perfect pair of jeans, you're ready for everything. You can wear jeans to a casual lunch or sightseeing, and also even to a nice dinner, so the right jeans are critical.
Choose a pair with a nice slim fit in a dark blue shade. The darker the color, the better they'll be for carrying you from day to night seamlessly.
An excellent fit is also essential because if your jeans are too baggy, they might not be appropriate for dressier venues.
An Oxford
Along with great jeans, if you pack nothing else pack an oxford short. An oxford shirt in blue or white is great for wearing on casual excursions, particularly if you roll up the sleeves or unbutton it and wear it over a t-shirt. Then, give it a quick steam, button it up, and you're ready for night.
Finally, depending on where you're going, you will probably want to bring at least one pair of shorts and a polo. These are great if the weather is hot and you want something breathable and comfortable, and also for casual daytime lunches or brunches. You can also wear this outfit on the plane or during the drive when it's time to head home. You might also want to pack a few additional things, depending on your destination including a pair of khaki chinos, and possibly a bathing suit.
Remember to wear your heaviest shoes on the plane, and if at possible only bring that pair. If you do bring another pair, make them lightweight and casual, like a pair of flip-flops.
With these tips for packing smart, you'll be ready for an enjoyable short trip.