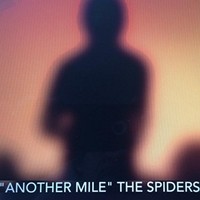 The Spiders, a type of creepy crawler that not many if not all dislike the most. While there are a good handful of those who accept and have taken a liking to the creepy crawler. In the case of the namesake thought it goes to a act called The Spiders and their newest and latest single "Another Mile".
"Another Mile", is not just their single but the song was then accompanied with a video as well. But what is the song and video all about, well the band says it's about running, heart, resiliency and drives us all to achieve our goals in life. Rather catchy and rather achieving of sorts if you ask me.
NAPSTER: http://uy.napster.com/artist/the-spiders/album/another-mile
In any case though the song and track is very catchy and has a rather uplifting beat going for it. Like one of the comments about the song had someone mention this as well as adding on that the song is very danceable too. But what is the genre in question here well it is country music of course, with the added addition of rock music, just the two by the sounds of it. While the genre pool is not much, the two genres make it work for The Spiders and this track of theirs called "Another Mile".
The song is as said catchy, upbeat, and brings out those dancing shoes if not bobbing your head to the beat playing on through. If not then perhaps you may just have a wide eyed grin spread across your face, in any case The Spiders have got that style and sense for them, that makes their music stand out. The song really makes itself work. Like the guitars, drums, bass, and vocals all working with one another, having the music flowing as one full swing of a force.
It may be country rock music but it stands out and pops out at the listener.
Whereas if this was another genre of choices here this likely would not happen. The song would probably still be interesting but it would not pop nor stand out as it is already doing. The song would likely fall flat, not being able to stand on its own, having the music not run its course as it were. "Another Mile", is just one of those tracks that is so uplifting and interesting to the ear, that it becomes another one you could always find yourself enjoying no matter what.
That is the sense and feel that "Another Mile" gives off for it. It is one of those songs that just sticks. A lot of the times a lot of country rock music just gets rather annoying really fast. But not for The Spiders. They are able to draw you in with their upbeat and catchy tones and captivating lyrical context that it becomes relatable to all who hear it.
Not really much more to be had or said about "Another Mile" or The Spiders really. They are an act with a track to back themselves up with, that will surely go places. Like a lot of their other material hit the charts doing quite well, so "Another Mile", may end up being another one of those chart toppers for sure.
Natalie Perez