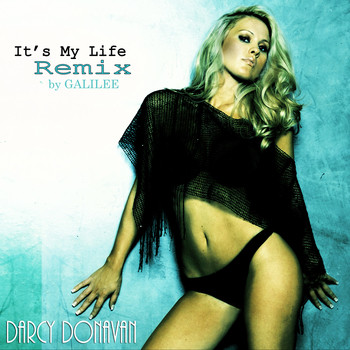 So I usually do one post per week here @ Skoped Out but when Darcy Donovan calls, you answer! So today I am honored to annonce the release of Darcy Donavan "It's My Life Remix by GALILEE." This new single is high energy and has everything you have come to expect from Darcy & Galilee. Join us on this beautiful Friday as we chat with Darcy Donovan on the new single, working with Galilee, advice to other woman on self confidence, and so much more!
Stoli: Where are we talking from today and are you ready for summer?
Hi Stoli! I am talking to you here from sunny California, Los Angeles, to be exact. I am definitely ready for the summer as it's been cold for California this past week, so I'm looking forward to the summer. I absolutely adore the beach, so I'm sure you will find me there very soon. ;)
Stoli: You are always so busy, how do you juggle everything and still enjoy life?
That is a good question since it's been absolutely crazy over here recently. I juggle it all with lots of Goji juice and V8 energy drinks! LOL LOL!
I honestly feel that life is about balance. It's important to work hard, but you also have to know when to stop and decompress. Anybody who knows me, knows that I have a type A personality and that I am in absolute workaholic. I truly enjoy the art of business, as well as being creative and bringing my visions to life.
The thing that helps me out a lot is that I absolutely love what I do. That makes life extremely enjoyable rather than a chore. I love acting, singing, writing, working with charities, spending time with my dogs, and also chatting with my amazing Dona-fans online. They always pep me up and keep me going as well so I'm incredibly grateful for all of them.
Buy/Stream: https://itunes.apple.com/us/album/its-my-life-remix-by-galilee-single/id1231748768
Stoli: You are getting amazing response from "It's My Life." What inspired you to write that song and is it based on real life experience?
"It's My Life" was definitely a passion project for me and came from several life experiences that I have dealt with in my past. Not to get into too much detail, but in my profession I have found that sometimes there are people who have hidden agendas and don't have your best interest at heart. It was also about several relationships I had in my past that were toxic and the song is an anthem to always stay true to yourself and don't let anyone or anything hold you back.
I really wanted to write this anthem to show the world that you don't have to do what everyone else does to be happy. You can live your own life and be proud of yourself for your own accomplishments. Many people have embraced my song as an anti-bullying song and a tribute to the unique style that each person carries within themselves. I am blessed to be able to share the song and message with the world, since it is so close to my heart.
Stoli: You have teamed up again with Galilee. What would you say makes the chemistry work so well between you 2?
Galilee is an extremely talented music producer. He has a great ear for sound and he can take a track and make diamonds every time. He also has an extremely positive and awesome personality and is an absolute sweetheart, that make it a pleasure as an artist to work with him.
I am very vocal on what I like and dislike and he is really great on making my visions come to life. I love working with him on tracks since it is so beautiful to see my work remixed into such catchy and uplifting hits that really get you going. It is no wonder how he has become so successful and done so many professional music projects for television as well.
Stoli: When Galilee sets out to remix your song do you have any input or do you let him work his magic?
I highly enjoy working alongside Galilee since he creates amazing beats from the get-go. I am very hands-on and extremely vocal with my music, so I will always have my input on things.
He sees my additions for the song and helps bring it to life as well, making an amazing culmination of both of our ideas. We really do make a great team. We go together like burgers and fries! LOL
Stoli: Your album art screams sex appeal. How do you keep in such amazing shape?
Well thank you for the compliment Stoli. Firstoff, I wanted to say that the album cover came from a fan art cover competition in which one of my awesome superfans had won. I want to do a shout out to Christopher Bowers for creating the winning cover art. You rock Christopher!
To answer your question, I stay in shape by being a super big yoga guru. I love yoga because it is stretching, strength training and meditation all-in-one. Is a great full body workout that is also relaxing and helps you find your Zen. I also get cardio from running with my dogs and I do strength training as well.
Probably the most important thing for my regimen is eating healthy. I am super big on eating a very clean diet, so there are very few cheat days. I don't do dairy, wheat or corn and I try to avoid sugar. I get about one cheat day a week. Anybody who knows me, knows that gluten-free pizza and cheeseburgers are my favorite go-to cheat snack , followed with a delicious dessert. Thankfully living in LA gives me lots of healthy dessert choices that are sugar-free and low calorie so I can pig out a little. OINK! OINK! lol!
Stoli: What advice can you offer other women out there about having confidence and feeling good about yourself?
I think the most important thing that I would tell other women is to always remember to love yourself. Love yourself where you are right in this very moment.
There is always something that you have that you can be proud of. Maybe you have a good heart, maybe you're a blessing to your family, maybe you're in great shape, maybe you're a great friend, maybe you're really good at Math or English, maybe you have a great job. Focus on that thing that you can be proud of. Remember to always reflect on the positive things in life above all else and if there's something that you don't like, make a plan and stay dedicated to reach your goal.
Also, don't lose hope when you fall off the horse, you just get right back up and keep going. In time, you will find that the things you are proud of will just keep growing more and more. I say this to the ladies out there, but also to the men. Every day is a new day to start becoming a better you. I'm cheering for you all, so never give up.
Stoli: When you put out a new song like "It's My Life" Galilee RMX where do you turn to see how the people are feeling it?
I get most of my feedback from my fans. My fans will tell me right away what they like and don't like. I'm very blessed to have such amazing fans who are so very supportive of what I do.
I know this song is a real club banger so it's going to get a lot of people up and dancing. I'm excited to be able to pep people up with this remix and I hope they all enjoy it as much as I do. I'm personally looking forward to jamming it out in my car as I drive down the Pacific Coast Highway tomorrow. Whoo Hoo!!
Stoli: If you were to create a music video to "It's My Life" Galilee RMX, what would be your vision?
I have several thoughts but I haven't pinned down the concept yet. I do know that I would want it to tell a story, embody strength, and have a positive ending.
There's nothing I hate more than a movie that has a bad ending. >:O It makes me want to find the writer of the movie, grab them and shake them around and ask, "What were you thinking!?" I paid all this money to now leave, depressed! This sucks!" LOL! LOL!
People need to be lifted up. In anything I do, I want it to end it positive and make people feel good. There is enough negative in the world and there needs to be more good to offset it. I always want to be a light to others.
Stoli: What is your favorite site/app to consume music and what social media platform do you like best for reaching new/old fans?
I absolutely love music apps, Stoli. I have accounts with iTunes, Google Play and Spotify.
As for the social media, I love reaching out to my fans. My favorites are my Facebook, my Instagram, my Snapchat, my Twitter, my Youtube and most recently my Musical. ly.
I love chatting with my friends and Dona-fans all over the world, and I'm so grateful for each and every one of them. I feel that each individual social networking platform has something special to offer, which is why I cannot choose just one.
I share my life through photos on my Instagram, I share my messages and my heart through my Facebook, I share fun times through my Snapchat, behind the scenes of my life on my Youtube and my passing thoughts through my Twitter. I've also met some amazing new people on the Musical.ly app, where I like to go and hang with my fur-babies.
I adore all of my current fans and I would love to see new fans on any one of my platforms since I highly enjoy meeting awesome people.
Stoli: What is coming up for Darcy Donavan and where are you at @ online?
Well, I have a lot of awesome things coming up. In June of 2017, I am starting a campaign for my inspirational book release so I hope that everyone checks it out. The book is a daily inspirational guide written from the heart. I had a lot of fans request it, so this year I have finally brought it to life. I know it is going to help a lot of people to stay positive and focused every day so I hope that everyone looks for it in June.
Other than that, I do have a movie in post-production that should be coming out sometime this year and I have several other new projects in the works that are going to round out 2017 for me. I'll keep you posted on those as they move forward through my social networks. The links below are where you can find me to learn more or just say hello.
http://www.Facebook.com/officialdarcydonavan
http://www.Twitter.com/darcydonavan
http://www.Instagram.com/darcydonavan
http://www.Youtube.com/officialdarcydonavan
and on the Musical.ly app.
I do want to thank you so much for your time Stoli. I really enjoyed the awesome questions that you asked and I had a great time doing this interview. I wish you and Skope much success.
I'd also like to do a final shout out to God, my family and my awesome Dona-fans and friends that keep me going every day. I wouldn't be able to do any of this without you and I absolutely adore you so much.
Big Hugs ~ Darcy