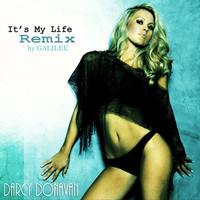 Full of energy and defiance, Darcy Donavan's "It's My Life (Galilee RMX)" is a compelling sound that taps into a rebellious spirit. Her voice soars full of commanding power. Lyrics are thoughtful and reflective while they emphasize a concept of individual self-worth. Such confidence lends itself well to the overall finely sculpted sound. Percussion reigns supreme over the piece, effortlessly blending both dubstep, dance, and pop into an infectious addictive whole. Volume is an absolute must for this is a sound that should be felt as much as heard. Tempos work wonders as the entire song passes by in a glorious blur of melody and percussion melded as one.
Stream/Buy: https://itunes.apple.com/us/album/its-my-life-remix-by-galilee-single/id1231748768
The song starts on a giddy level of energy. With almost a geometric approach to the sound the way it unfolds is masterful. Melody and tempo merge as one incredible groove. Vocals grace the piece, with the chorus punctuating the sound at all the right moments. Life-affirming to its very core the way the sound spins out into surreal soundscapes makes it particularly appealing. Layer upon layer of sound comes into the mix, with little dollops of acid techno thrown it giving it an almost rave-up appeal. By opting for such a style the song further emphasizes the passion that drives it forward. For the final moments of the sound everything simply reaches an incredible climax.
With "It's My Life (Galilee RMX)" Darcy Donavan delivers a universal truth, one that can successfully guide a person forward to self-actualization.
By – beachsloth.com