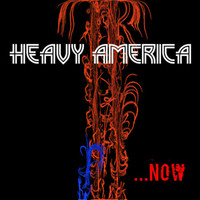 How can someone or something be original like the legit original said thing, person, or place that it is to be original about. Sorry if that was a lot to take in, but when an artist or band goes into such detail declaring that they themselves, are for instance the "original alternative hard rock as gritty as the Boston streets that inspire this great band" is how Heavy AmericA depicts themselves according to their social media pages.
That being said Heavy AmericA is precisely how their name is spelled with the upper case letter front and center well not in the center more to the right side but you get the picture. Well there isn't really a picture per-say but you get it right? Anyway Heavy AmericA's latest and newest song called "Proud Shame", taken from their album called "…Now" is quite the interesting track indeed.
How is it an indeed yet interesting track you ask, well the band says that they are a lot like some other artists and or bands on the music scene ranging from Queens of the Stone Age, Black Sabbath, and Wolfmother. Now Heavy AmericA does not sound exactly like these acts, but somewhat close to them in some ways. Their style is sort of like a mixture of alternative rock, mixed with some minimal grunge or simply rock music. Like Soundgarden crosses the likes of Alice In Chains is how this band sounds slightly, very, very slightly I think at least.
They are like the new generation of Soundgarden meets Alice In Chains styling's I think. At least that's what can be heard upon this song that is "Proud Shame". Again slightly, very slightly indeed. The vocal chords and instrumentals on the other hand though, are done rather well. Both go together rather quickly and run with a flow movement with the tone of the music. Like the vocal chords are spot on being right there in the open, while the instrumentals are in the backdrop but are still known. The drums, guitars, and bass all working together to create this environmental experience with the flow of their musical beats and eerie vocal tones.
It's like this band has not even been around for very long but yet have already made quite the name for themselves as it is. Heavy AmericA is as they have said an original alternative hard rock band who are based in Boston, Massachusetts, comprised of only three members, Mike Seguin on guitars, lead vocals and keys, Dan Fried on drums, percussion, and vocals, with Budd Lapham on bass and vocals. Yet this trio makes Heavy AmericA work out.
As the band says, they are an original alternative hard rock band, who has brought forth the change that was so desperately needed within the hard rock music scene today. Their unique formula has resulted in such powerful music that it is so gritty yet aw- inspiring. It's filled with such energy and raw emotion that they are one of those bands, with such unforgiving work ethic and a never give up can do attitude, that it can all be placed right here and now with this song called "Proud Shame", from the album "…Now". By a little act called Heavy AmericA.
By: Natalie Perez