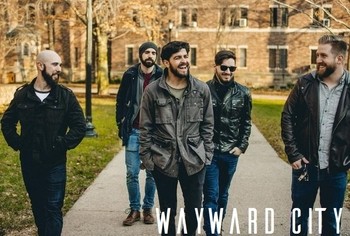 So here we are and it is so good to see you all today. We have got an awesome band here today – Wayward City. They have such exciting things going on musically so we got to chat with them. Before we get into that lets check some music news. First up, Here's your chance to demo the amazing GPS-8 full range personal monitor PA system from Galaxy Audio! Performer is looking for a dynamic product tester to win and demo the GPS-8 full range personal monitor PA system from Galaxy Audio. The ideal candidate is an artist with a healthy live schedule (solo artist or full group), who can show their fellow working musicians how well the GPS-8 functions, some of its killer features, and perhaps some creative ways they're using the product – CLICK TO ENTER! In other news, Recording engineer Olga FitzRoy has launched a national campaign to get Shared Parental Pay extended to self-employed parents who currently don't benefit from this scheme. With the backing and support of the Music Producers Guild, of which FitzRoy is both a member and MPG Award winner, the Parental Pay Equality Campaign aims to right this injustice by asking Government to change the legislation into something that works for all parents. So now onto Wayward City – a five-piece alternative rock outfit hailing from New Haven, CT and Puerto Rico. These guys have a live show on May 27th at webster Hall so I wanted to have them on to chat about that and so much more!
Stoli: Where are we talking from today and are you excited about summer fun?
WC: Andrew Wells / Bass: Greetings! We are chatting from our studio/practice space in sunny Seymour, CT. We are all extremely excited for the warm weather; Barbecues, porch sitting, motorcycles, gardening, bonfires, music festivals, etc. Who doesn't love summer?!
David Torres (vox)
Craig WIlliam (guitar/vox)
Ted Freeman (drums)
Giancarlo Rodriguez (guitar)
Andrew Wells (bass)
Stoli: How did Wayward City come to be and how did you get the band's name?
WC: Dave Torres / vox: The beginnings of what would eventually become Wayward City started when David Torres, singer, and bassist, Andrew Wells, disbanded from their old progressive-metal band, Elotheos, to join an alternative rock band called Anzio, which was Ted Freeman's project, back in 2010. Just days before releasing the band's very first EP in 2015, the band name was selected out of a pool of ideas each member had proposed throughout the course of the entire recording process. "Wayward City" was one of the last entries made by the vocalist before our tally system yielded our official band name. According to him, "Wayward City" has a two fold meaning. The first being this idea that everyone must follow or capitulate to a particular vocation or attain a certain lifestyle of riches/fame to be dubbed "successful" or impress others is total hogwash and Wayward City represents this place where we can abandon that toxic, frame of thinking to make of our lives as we see fit; free from the standards and measurements of others. According to the vocalist, the second and more personal meaning reflects his belief that there is an Intelligent Designer that lovingly and indiscriminately pursues the hearts of wayward men and women regardless of their conduct and opposition towards Him.
Stoli: How long would you say it took to create the signature sound that you all could vibe with?
WC: Andrew Wells / Bass: Our sound is definitely still evolving as we write new material and continue to build our chemistry with one another. With each song we write, we try do something a little different than we did with the song before. Whether it's experimenting with structure and instrumentation, or just trying out new methods of writing, we feel as though our sound still has a lot of room to grow. That being said, we knew we found something unique within minutes of getting together for the first time. We literally wrote "Love Is" on day one with zero expectations as to what this project might sound like. When "Saeed" came together the following week, we knew we were on to something.
Stoli: I love your song "Who Is Man?" What is that song about and when did you write/record it?
"Who Is Man" – https://waywardcity.bandcamp.com/track/who-is-man
WC: Dave Torres / vox: "Who is Man" is primarily about the old adage search and eventual discovery of mankind's identity through an Intelligent Designer. "Handled with great detail, the whole is greater than the sum of its parts" touches on the improbability of an organism's components functioning without the assistance others. Consider the human body and its various organ systems being solely dependent upon the others working at full capacity in a homeostatic state. The heart can't do it's job without the brain, the brain can't do its job without the heart and etc. Did this biological machine form itself through sheer chance and zero guidance or is there intelligence behind the culmination of life in general? Is the whole greater than the sum of its parts? This song was written in the summer of 2015 during Giancarlo Rodriguez's tryout session for the band. The jam session/tryout quickly morphed into a thought-provoking epic in a matter of minutes. We knew we had stumbled into something special and our Puerto-Rican prince quickly filled his rightfully deserved spot
Stoli: You have a major gig coming up in NYC on May 27th @ Webster Hall. Please tell us all about it and how we can join in the amazing night of music?
WC: Craig William / guitar: Yeah we do…and we couldn't be more excited about it too! So we'll be sharing the stage with our friends in Call Security, We're Ghosts Now, and Ruby Bones for the 27th. This is our second time playing the city and we're pretty stoked that it could be at such an awesome venue as Webster Hall. I used to be there pretty regularly when I was living in the city and some of my best concert going memories took place there. (Manic Street Preachers on their first US tour in almost 10 years back in 2008!). The show starts at 7PM and you can check out our Facebook for tickets: http://facebook.com/waywardcitymusic. For any more details with the band, follow us there and be sure to check out our site when it gets launched in the next few weeks – http://www.waywardcity.com
Stoli: What must you do to get ready to play a live show and how do you help fill the venue?
WC: Andrew Wells / Bass: We are a very DIY band, and there are a ton of logistics and preparation that go into our shows. In addition to rehearsing our set, we have a light show that our drummer, Ted Freeman, puts a great deal of time into programming. On top of that, we do all of our own screen-printing, (tee shirts and CDs). Since we give our music away for free at our shows, we have to re-stock almost every time. The burning and printing never stops! As far as filling venues goes, social media is a musician's best tool nowadays. We rely on Facebook and Instagram to spread the word far and wide. We also have a great relationship with Radio 104.1 WMRQ in Connecticut, and they frequently promote our music and shows.
Stoli: At what time will you guys prep the set list and can you offer us a preview?
WC: Ted Freeman / Drums: We try to slightly re-shape each setlist to uniquely fit the show we're playing. Usually about two weeks from the gig, we'll decide on what originals fit best on that specific show. Then try to throw in a cover song that the audience will hopefully enjoy.
For May 27th at Webster Hall, you can expect our most recent release, "New Liberation". As well as a brand new song that will be recorded next month called "Towing Lines". Expect our three previous singles that can be found on Spotify and Apple Music. And then a special cover by a native NYC/Southern Connecticut song-writer.
Stoli: Do you think it is fair how the liberal mainstream media has made it cool to be so against our elected president after only five months?
WC: Craig / Guitar: Not touching this one…sorry!
Stoli: What is the most exciting thing about being an indie band in 2017 with social media & technology?
WC: Craig William / guitar: It's pretty wild to see how much has changed with the way bands have been promoting themselves…even in the advent of social media, it feels like it's changed drastically in just the last few years. It's fun, but sometimes the need to stay relevant with content can be a bit daunting. Between everyone on Instagram, Twitter, Facebook, etc., it's about having as much of an online media presence as it is the content and quality of the songs a band writes that are the biggest factors in their success (or failure).
Not to mention all of the other hard work that goes into it. For our last show, our drummer, Ted, was pressing CD's and t-shirts all on his own until we ran out of stock to make anymore (he's a trooper!). That's the kind of DIY effort it takes; I feel like a lot of younger bands don't know what it really means to build their brand and help to create and be a part of an awesome music scene. I remember when I was in my first band growing up, going to shows with our material on hand, trading demos/merch and arranging dates to get on bills with other bands around the area. It took real street teaming to get that word of mouth out to the local scene and build your name a bit. We're starting to see a huge resurgence around our stomping grounds in New Haven, with the new College Street Music hall venue and many of the awesome venues around the area. (Toad's Place, Stella Blues, Pacific Street Tavern, to name a few). It's this scene that we are super proud to be a part of and love the opportunity it's given us to get our name out there.
Ted Freeman / Drums: Just last month, Wayward City released a 360 degree music video for our song "New Liberation". The production was completely done in house. The 360 video was filmed by the band and edited by our bassist Andrew. And the song was entirely recorded and mixed in our drummer Ted's home. Twenty years ago, that would be unheard of!
There's no question that there is more opportunity and it is more cost-efficient today then ever before to get your music out to the public. Which is extremely exciting! But the catch is a band needs to always challenge themselves to release creative and quality content with hopes that it stands out over a very competitive market.
Even with all the self-funded albums and the social marketing these days, indie band's will continue to seek that big break: that one DJ at the alt rock station that says, "These guys are sound cool, let me give them a spin!"
Stoli: What is coming up for Wayward City and where you @ online?
Ted Freeman / drums: After the Webster Hall gig on May 27th, we're going to hop right back into the studio to record a new single called "Towing Lines". There will be a video filmed sometime in June for that song too. June 21st we have a gig with a great Australian band called Jakubi which should literally be a party! Then some Connecticut shows including a battle of the bands at Foxwoods Casino in July.
You can stream our music on Spotify and Apple Music. Our YouTube channel has some studio performance videos and check out our recent 360 music video and upcoming shows at:
http://facebook.com/waywardcitymusic
Also, follow us on Instagram – @waywardcity