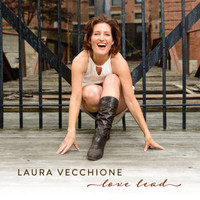 I want to like this album more than I do. I really like a lot of the songs. It's the singing I'm not crazy about. It's not the voice or even Laura Vecchione's ability to hit the right notes that bothers me. It's the vibrato on the voice. The whole "shaking" thing used to the fashion in the early parts of the 20th Century. I think that a lot of the reason it's used to much here is that this music is seeking to be associated with those earlier styles. It's just that it's like nails on a chalk board to me. I can't stand it. I know that it's personal taste, and that some people love that type of singing. If you are one of those people, this will work better for you than it does for me. The thing is, it's pretty good despite that. So, if you enjoy that kind of thing, you will love it.
URL: http://www.lauravmusic.com/
A bluesy, soulful sound makes the opening "Light of Day" work well. The backing vocals add some layers to the arrangement. The saxophone brings something different to it. This is a solid song. Motown and soul seem to be merged together on "Keep Knockin'." It's a fun piece that feels like a musical time-capsule. It doesn't feel modern at all.
Although the title track still has some retro sounds in the mix, it is more modern in a lot of ways. This mid-tempo tune is a good piece of music that works really well. I love the acoustic guitar that starts "Traffic Light." The vocals are gentler here. This is a very pretty song that's one of my favorites here.
A mellower song, "Birdsong" has a 1970s folk style to it. I don't really like vibrato on vocals, and this one has a bit too much for my tastes. Still, a lot of people like that thing. The musical arrangement on "Better Man" is more involved and interesting. It leans toward weird in some ways, but in a good way. It is more of a modern rocker. It's one of my favorites here.
Hard rocking, "Rockin' a Baby" has blues and soul combined in a classy and classic style. It's a strong tune and one of the highlights. "Judas Kiss" is another of the standouts. It's a slow moving blues rocker. It has a great mood and some of the best vocals of the album.
The mellower cut "Brave" is solid. It's just not one of my favorites. It's good, but not my kind of thing, really. I do like the lyrics a lot, though. I like the acoustic guitar and vocal arrangement that starts "You're the One." Again, the vocals shake a bit too much for my tastes, but it is a good song in terms of structure.
"Marksman" is another strong song. It's too short. It might be my favorite song here. It's bouncy, and catchy and has some of the best vocals of the whole album. There is too much vibrato on the vocals on "Lone Wolf." Otherwise, it's a strong tune.
Built around piano, some strings add to the mix on "Midlife." I wish there wasn't so much vibrato on this song because it would be so strong without it. As I mentioned at the start, that shaking is the one thing I don't like about a lot of this set, and it's especially true on this number.
7/10 Stars
I-TUNES: https://itunes.apple.com/us/artist/laura-vecchione/id210704397
Diane Hill