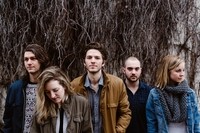 About the Artist: Tow'rs is a 5 member band hailing from Flagstaff Arizona featuring the husband and wife vocal team of Kyle and Gretta Miller. Their latest LP "Grey's Fidelity" has received critical acclaim from many music critics around the world thus far. Genera: Alternative Rock/Pop.
BANDCAMP: – https://towrs.bandcamp.com/album/grey-fidelity
We have all been exposed to well-known artists that are talented not only in music but are also endowed with other gifts. However it seems that as time goes by, and technology advances, artists are expanding their horizons past these gifts. Unfortunately many feel modern pop has lost it's identity with it's over the top flash and mundane and mechanical delivery. Indeed not everyone is shall we say, highly entertained. The Millers and company are prime examples of top notch singer songwriters, whose alternative pop style is very marketable and feels as if it has broken the mold when compared to other music on the radio these days, and in the process bring the gift of love to the table. Indeed behind the "good look" is one of Arizona's premier up and coming acts Tow'rs. Their 11 song LP is amazing! Admittedly it provides a whole lot of variety song for song via these latest arrangements. First: The Millers are an impressive 2-some team backed by a solid band who delivers solid performances and writing, very much like a well-oiled machine. This is testament to hundreds of hours of rehearsal time no doubt. Second: Lead singer Kyle with Gretta (on harmonies) are both to die for as they possess a strong vocal duo collaboration and overall look that delivers the goods. Both members have the attributes required of an effective singer/songwriter/front-man/woman. Third: their overall sound and amazing songwriting touch are as good as it gets within this modern alt-rock style of music. All songs are a skillful combination of modern alt-rock yet with a slight pop-rock aftertaste that will remind you of the likes of The Veronicas, Rita Ora, Own City and Carly Rae Jepsen and Natasha Bedingfield.
Tow'rs has the creativity and songwriting prowess to be extremely dangerous. What's more: there is also a unique quality to this catalogue that breaks the mold when compared to the mundane pop-rock that's been filling the airwaves lately. What am I trying to say? Well let me start by saying there is nothing fake and superficial about Tow'rs. I will add not every square inch is filled with musical ambience delivered under duress, but musical space this allows the music to breathe on its own with passion and lyrical content that cannot be faked. Equally as impressive is how marketable this release truly is. It covers so much ground and despite this it manages to not spread itself to thin across to many lines – nice touch.
I've always said if you can play it a party, then it's marketable. The music of Tow'rs is extremely marketable – with a hard hitting sound that is passionate, highly creative, honest and infectious very much like the 2 members themselves.
Criticism: None
FACEBOOK: https://www.facebook.com/towrsmusic/
Julie Skarpness