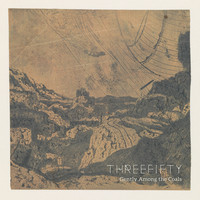 Threefifty is the musical vision of duo Brett Parnell and Geremy Schulick how just released their latest effort entitled Gently Among the Coals (2017).
OFFICIAL URL: http://www.threefiftymusic.com/
Stocked full of hooks and a jovial playing style that never lets it's guard down, to melodies which linger long after the playing has passed, Gently Among the Coals provides nine buoyant and 13 inventive tracks which play like new adventures, yet approaches them like old friends you feel you've known for a long time. This latest release pleasantly embraces the ears and is in a league all by itself with an elite spirit of eagerness and vibrancy. The unique melodies soak every accomplished note from the beginning of "Crossing State Lines" through to climactic ending. It offers many musical familiarities, wearing those inspirations proudly on its sleeve showcasing eclectic musical influences hinged on impressive musicianship and a unique signature sound. Case in point: This is one of the most original sounding bands I've heard in quite some time.
It's fair to say that the CD does not come down from the high of the first 3 track. Though it certainly provides a consistent balance of genres listed above. As the CD slowly advances the melodies, addictive bluegrass hooks return sporadically from time to time with a beckoning potency far away from the mediocre mainstream. Bottom line: there's something much more tangible about this release compared to most of the CD's that slide across my desk this year. All tracks emerge from a modest sonic web producing much in the way of low end bass lines, jumpy guitars, earthy Mandolin and a spicy fiddle. The instruments, and subsequent meticulous movements provided by this experienced band will leave their mark on you instinctually and inspire the imagination. Sporadic vocals have a modest quality which defines itself and work well within the setting of each piece.
My favorite track is probably "Until Our Hearts Give Out" another interminably seductive piece offering waning poetic ambience and sure musical direction. Though maybe this is one song which fails to linger and return like the others, but is a riveting tidbit nonetheless.
Gently Among the Coals by Threefifty is a good listen any way you slice it. It's a ripe musical invitation into the world of a red hot band. At the least it will satisfy many, thus filling the void left by millions of band who cannot dive this deep – not even close. This outlier style of music is not only mastered by Brett Parnell and Geremy Schulick.
SONICBIDS: https://www.sonicbids.com/band/threefiftyduo/
Larry Corbin