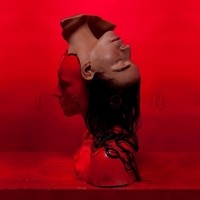 What is a name, the dictionary defines it as a word or set of words by which a person, place, or thing is known, addressed or referred to. That said, with artists that are up-and-coming with such namesakes as FKA twigs, Björk, or even Sevdaliza, it's hard to tell who's who within the music scene nowadays. But enough of that, this is one of those artists named Sevdaliza, with her debut full-length album called "ISON".
The album consists of 16-tracks, 4 of which have been made into singles as well as videos, thus the album has showcased such songs off the album as "Amandine Insensible", "Human", "Marilyn Monroe", and most recent being "Hubris". These song selections have given a glimpse into what can be expected from the "ISON" era and what music comes from it. Now the music may be a step into the future, as opposed to the past, but as the expression tends to go, that may be a good thing, over bad thing. In short, the fandom that revolves around Sevdaliza, have taken liking to these selections, whereas some of the fandom are not accustomed to this new era of her music.
When it comes to these particular songs though, these songs do sound a lot like the other artists mentioned prior, FKA twigs or Björk. They too have a very similar styling to that of which we are discussing that is Sevdaliza. Again her styling is a lot like these other artists, except it is her own take on what they have created, making it her own version and thus these songs off this album that is "ISON". You really get an idea of what this release will likely end up sounding like. Which ends up being not quite pop music, or even rap, hip hop or r&b, it is more of a mixture of those just slightly. But has an added addition of perhaps Hindu or maybe even some Indian influences, as those cultures tend to have a more exotic tone to their musical styling and tones. That is what is presented on these song selections, as well as the rest of the album, with other tracks like "Libertine", "Shahmaran", "Hero", "Lovesway", and even "Do You Feel Real". These songs make up what the rest of this album ends up being as a whole. Which really brings it out to being a well rounded yet solid album.
The style is mellow with an even drift of melodies and lyrical content. It makes it all flow with the effect of the music and vocal chords, that it has this sensation to it, that it works really well for it all. Not so sure on how to really describe it any better though. It just has a certain tone going for it, that you can enjoy and hear from those other artists as well.
Sevdaliza's "ISON" album, is a debut release that shows a lot of pride, passion, and feeling for it. She herself as an artist, and person has got something here. Her style may sound like other acts on this scene, but it is Sevdaliza herself that makes her stand out, above those acts if not more than that even. This style is smooth, edgy, and has got a lot of energy that keeps the music hot and vivid.
https://www.facebook.com/SEVDALIZAMUSIC/
By: Natalie Perez – www.nataliezworld.com – natalieannnperez@gmail.com