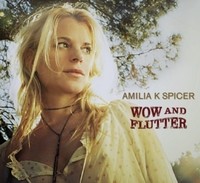 The latest full length from Amilia K. Spicer, Wow and Flutter will likely mark her discography as one of the most substantial achievements in an already impressive career. Spicer has wisely chosen a number of top flight production and musical talents to help make the album's dozen songs glow with as much quality as possible. Daryl Johnson, formerly associated with Bob Dylan and The Neville Brothers, Rami Jaffee from The Wallflowers and Foo Fighters, and Jimmy LaFave guest star on the release among many others. The mix is handled by Malcolm Burn, renowned for his work on Bob Dylan's Oh Mercy release along with other excellent recordings, and the production glows with warmth, atmospherics, and clarity. Spicer's vocal and songwriting talents make her a marvel in a field filled with aging talents and young mediocrities and it's collections like this that seem to mark her for posterity.
URL: http://www.amiliakspicer.com/
The opener and first single "Fill Me Up" raises the curtain on Wow and Flutter in the best possible way. Spicer scores big with a balanced musical and lyrical release filled with her voice and universal touches longtime devotees of this genre will appreciate. The music is a mix of blues and country flavors set in a low-key musical setting. Spicer, at her best, brings feel and finesse together in equal measure and this song personifies that idea. "Harlan" opens, perhaps surprisingly, with a stirring of strings before segueing into lyrical acoustic guitar. It combines flashes of solid chords with some rather elegant melodic turns and Spicer's delicate vocal matches it well. "This Town" has a memorably theatrical quality, but it's never pressed so hard upon the listener that it takes on too cheesy of an air. "Lightning" brings together some lightly fried Southern taste with moments of surprisingly airy melodicism that you might call high end pop without the pandering. Breathy vocals from most singers might be considered an affectation, but Spicer manages to invoke tremendous atmosphere with this approach – primarily because she effectively alternates it with other passages of more assertive, nominally "straighter" singing.
There's a haunting spirit guiding the performance of Spicer and musicians alike on the track "Train Wreck". Her songwriting has a penchant for significant details and utilizing the right imagery to see through the cut's potential. She does a marvelous job, time after time, of making use of traditional music in new and individualistic ways. Blues and some surprisingly light jazz influences find their way into the song "Shake It Off" and it's one of the album's most effective numbers once it gets going. The loose-limbed, easy grace coming through during its running time draws you in with little effort and Spicer gives it a richly deserved vocal. One of the album's abiding qualities is the consistency and coherence of Spicer's musical vision. Nothing ever sounds terribly premeditated or plotted out – each Spicer outing sounds like it emerges naturally, even live, and the production captures that feeling quite nicely. Wow and Flutter concludes with the marvelous "Shine" – she foregoes her tendencies to rely on folk/Americana/blues approach and, instead, opts for a more orchestrated finale. It never loses the very human feeling pervading the earlier eleven songs and ends Wow and Flutter with an understated flourish.
9 out of 10 stars
FACEBOOK: https://www.facebook.com/amiliakspicermusic
Jason Hillenburg