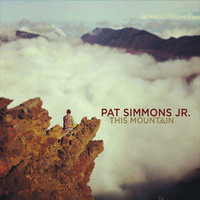 Pat Simmons Jr. just released his debut solo CD entitled "This Mountain" in January 2017. Pat Simmons Jr. is the son of legendary guitarist and Doobie Brothers founder Pat Simmons. For the record – I am going to write this review like I have no prior knowledge of this fact.
The CD gently lifts off the ground with melodic intro piece "Up and Out by Five." This song serves up an infectious reggae-folk kickoff piece served up against mesmerizing vocals, hypnotic guitar and inviting folk-rock rhythm that confidently leads you by the hand down the path of musical indulgence. Track 2 "Rust" keeps things moving with its slamming Pedal Steel guitar licks meshed against impressive musical peak and valley, inviting/soulful vibe and impressive vocals from Simmons Jr. Track 3 "Mauna Mele" is an impressive piece with powerful message that flows and ebbs its way through to emotional fruition courtesy of vocals from award winning Hawai'ian artist Keali'i Reichel and electric guitar from Hawai'ian bluesman Willie K. By track 4 this CD hits solid stride delivering many impressive songs back to back. As the CD slowly unfolds I can hear many musical influences but one in particular in Bob Marley. I would classify this music as Soulful, Singer/Songwriter and Americana Rock with a fun and carefree Reggae vibe. The CD at times presents brilliant peak and valley flow via a care free Island spirit that can't help but suck you in. Besides the four piece standard you will also notice rich layers of impressive Electric guitar from Willie K, rocked out solo guitar, Harmonica, Banjo, Slide Guitar, effective harmonies, enticing melodies and Piano – all built on a nice, easy flowing rhythmic foundation. As a vocalist Simmons Jr. showcases an impressive and soulful singing skill set. He's got good timing, finesse, timbre, and uses his power and control just when he needs it. All other members play their parts well and the production strokes though simple are pro grade. Kudos goes out the impressive guitar work from Willie K and amazing vocal and musical personality courtesy of Simmons Jr. who also plays guitar and Ukulele. All the musicianship and compositions are solid across the board. Simmons Jr and the gang aren't going out of their way to win you over, but he's not going out of his way to prove himself despite playing in his father shadow either. This is the most impressive aspect of this release. Simons Jr. does a great job at establishing his own musical personality. All production aspects check out. CD possesses solid low end punch and crystal clear high end clarity. Simmons Jr. has an effective baritone and his vocals flow well with the music. His overall touch behind the microphone is amazing.
Al songs over 3.5 minutes tend to drag you to the finish line. CD is a bit short for A CD release. I want to hear a bit more vocal risk-taking from Simmons Jr. with things like power, falsetto and emotion. For some reason the vocal ending of Mauna Melle by Keali'i Reichel sticks out like a sore thumb to me.
For my money it doesn't get much better than "This Mountain" by Pat Simons Jr. This surging artist is clearly making waves around Hawaii with his music for all the right reasons. His strong suit is his amazing songwriting and vocal touch, not to mention the musical personality delivered song for song will win you over. There isn't a weak song on this entire 6 Track set. The music is easy breezy, grooving, upbeat, soulful and entertaining. The songwriting – all consistent musical experiences, each one possessing a unique personality, flair and signature groove. This CD will be a real joy for those listeners out there who want an easy going musical experience to fill their atmosphere. This easy to digest musical format makes for a great musical experience many will enjoy. I recommend you just hit play, close your eyes and see where the journey takes you. Like a vacation to Maui, chances are you will want to come back soon.
Label: Independent Artist
Website: http://patsimmonsjr.com/
Genre: Rock n' Soul, Reggae, Rock, Blues, Rock, Americana. Jazzy Pop
Sounds Like: Pat Simmons Jr.
Technical Grade: 9/10
Production/Musicianship Grade: 9/10
Commercial Value: 8/10
Overall Talent Level: 10/10
Songwriting Skills: 10/10
Performance Skill: 10/10
Best Songs:
Weakness: Feels like an EP
Cyrus Rhodes