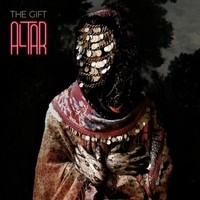 Bands and individual music artists often, six albums into their career, can rightly be accused of coasting. The Gift are not one of those bands. One release after another, this alt-pop quartet is setting the bar higher and higher for themselves. This is impressive, but more impressive is how they consistently match their past achievements and set a new standard for themselves on future releases. Altar, the band's sixth album, is produced and co-written by the iconic Brian Eno and mixed by sonic avatar Flood. This is a band who doesn't need marquee names to get over, however. The Gift's talents, led by keyboardist Nuno Goncalves' writing skills, is a superb artistic unit in every regard and what they can accomplish is apparently limitless. Married to the talents of such legendary collaborators only further enriches their presentation and the ten song collection Altar rates as the band's greatest work yet.
The piano playing and interesting percussion propelling much of the opener, "I Loved It All", sets up the vocal in a lightly dramatic way nicely dovetailing with the arrangement. There is a swirling quality to the performance, but there's also a patient development in the way the song unfolds. The Gift are able to attain frequently poetic touches with their performances that are more the result of accumulation rather than presenting all their artistic cards at once. An urgent, near manic tandem of drums and synthesizer powers "Clinic Hope". Some of electronic music's detractors often claim that the gee-whiz factor they often produce comes at the expense of genuine human warmth, but "Clinic Hope" conclusively proves that criticism invalid. There's some strong flashes of melody, as well, that bring listeners deeper into the band's sound. The impressive diversity of this album becomes more and more apparent the further on it runs. The dense instrumental attack of "Big Fish" has some accompanying percolating percussion balancing it out and a scat sung vocal introduction that further complements the mood. It is safe to assume that the band took great care structuring the vocals on this album and their efforts pay off handsomely. The disparate elements of these songs come together artfully each time out.
There's a spate of cleverly recorded guitar opening the song "Love without Violins" before it slinks into a bass, synth, and percussion dominated arrangement. The vocal mood has a distinctly low key turn that matches the song's spartan emotional tenor. "Manifest" has some excellent vocal harmonies and another urgent musical arrangement with well-timed tempo shifts that expands on its sleek thrust. Guitar resurfaces during the song "You Will Be Queen" and the duel vocals in the song are quite lovely, if a bit restrained and even melancholy. The song opens up to a greater bloom at select points, but even those moment show an elegiac temper that feels ideally suited for the song. "What If…" finishes things off with the same elegiac temperament and has a gentle artfulness that is nonetheless quite direct. It ends the album with a fragrant, deeply felt number.
9 out of 10 stars
I-TUNES: https://itunes.apple.com/us/album/altar/id1208910164
Jason Hillenburg