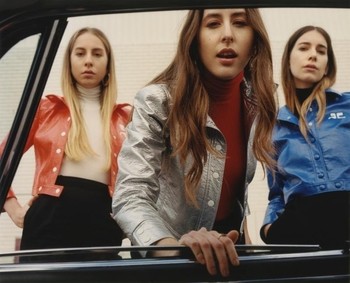 HAIM will release their sophomore album 'Something To Tell You' globally on July 7 (Columbia Records). The announcement comes in tandem with the release of a live studio version of new song "Right Now," the first new music from HAIM's forthcoming album. The song was released as a video of Este, Danielle and Alana recording the song in a studio. Paul Thomas Anderson (Boogie Nights, Magnolia) stopped by the session and shot HAIM while they were recording. HAIM will release the first official single from 'Something To Tell You' on Wednesday May 3.
Last night HAIM gave family, friends and fans a sneak peek of the video at a special debut party at Canters on Fairfax. The famed location is the site of the sisters' first show almost 18 years earlier. This week it was announced HAIM would return to Saturday Night Live on May 13, with Melissa McCarthy hosting. This will mark the band's debut live performances of new music.
As previously reported, HAIM reunited with Ariel Rechtshaid to produce the forthcoming album. The sisters also worked with Rostam Batamanglij (Vampire Weekend). Ahead of releasing the live "Right Now" video, HAIM began teasing news of new music with billboards across the globe including Los Angeles, London, Berlin, Sydney and Melbourne.